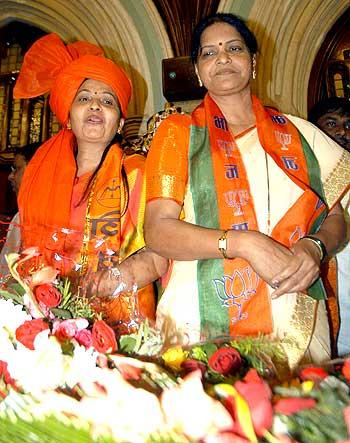 Helped by Samajwadi Party and Maharashtra Navnirman Sena corporators, Shiv Sena's Shraddha Jadhav was elected Mayor of Mumbai defeating Congress nominee Pricilla Kadam on Tuesday.

In the 228-member Brihanmumbai Municipal Corporation, which Sena has been ruling for the past 15 years, Jadhav bagged 114 votes while her nearest rival Pricilla Kadam got 95 votes. The absence of six MNS corporators and seven Samajwadi Party members dashed the hopes of Congress to elect its nominee as the mayor.

As voting for the mayoral poll began, the six MNS corporators were busy listening to a speech by party chief Raj Thackeray, estranged nephew of Shiv Sena chief Bal Thackeray, at a function in Sion. "We skipped voting as supporting Congress would have sent a wrong signal to MNS supporters," a leader of MNS which Raj formed after parting ways Shiv Sena, told PTI.

Despite trying its best to lure corporators of the civic body's ruling Shiv Sena-BJP alliance, Congress failed to grab the post of mayor. The Bharatiya Janata Party's Shailaja Girkar was elected deputy mayor. "We were confident of the victory," Shiv Sena Executive President Uddhav Thackeray told reporters. Uddhav indicated his 83-year old father Bal Thackray would now play an active role in the party's day-to-day affairs. "Balasaheb will now visit Sena Bhawan once or twice a month," he said.
A commerce graduate, Jadhav was elected corporator  from Parel as an independent in 1992 before she joined Shiv Sena and replaced Shubha Raul as the mayor. This is the second time that the mayor was elected by raising of hands and not through secret ballot. Sena's Versova corporator Chaya Bhanji, who was reported `missing' for the past 48 hours, was present during polling at the BMC headquarters. With Samajwadi Party deciding to stay away and the MNS corporators remaining absent, Congress plan to score a hat-trick of victories, after defeating the saffron alliance in the Lok Sabha and Assembly elections, came a cropper. The victory has also given a new lease of life for the saffron alliance, specially Sena, after it had suffered drubbing in the Lok Sabha and state assembly polls.
Image: Newly elected Mumbai mayor,Shraddha Jadhav (in orange turban) and Deputy Mayor Shailaja Girkar at the BMC headquarters in Mumbai.
Photograph: Sahil Salvi