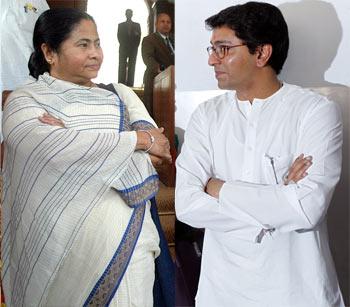 So what if Mamatadidi is rubbing many a West Bengal politician the wrong way? So what if she is the leading bete noire of West Bengal Chief Minister Buddhadeb Bhattacharya?
As the firebrand leader of the Trinamool Congress in West Bengal, she may have acquired many enemies but her stint as railway minister seems to have invoked feelings of bonhomie and brotherhood in the most polemical party in Maharashtra.
The day won't be far when Maharashtra Navnirman Sena president Raj Thackeray too will start addressing her affectionately as Didi.
The MNS president was all praise for Mamata Banerjee for her promise to hold the Railway Recruitment Board Exams in three languages -- the local language, Hindi and English. For Maharashtrians in the state, the test will be conducted in Marathi -- she had promised this on November 21 when she flagged off the 15-coach train from Andheri in suburban Mumbai -- an issue which was responsible for the MNS's violent agitations to disruption of the exams.
"We congratulate and thank her (Mamata Banerjee) for the decision she has taken," Thackeray said while addressing a gathering of party workers at Shanamukhananda Hall in Sion, a central suburb of Mumbai.
On previous occasions, Thackeray had lambasted many erstwhile railway ministers -- most notably Lalu Prasad Yadav -- for not conducting the exams in Marathi and not advertising the same in Marathi newspapers.
Mamatadidi, during her visit to Mumbai, had also declared that locals will be given first priority for jobs that originate in the state.
It is utterances like these that seem to have warmed the cockles of the MNS president who fought the 2009 Lok Sabha elections and the recent elections to the Maharashtra legislative assembly on the issues of 'Marathi asmita (pride)' and reservation in jobs for 'sons of the soil'.
"However, we would also like to see Mamata Banerjee advertise these exams in Marathi newspapers, so that the Marathi youth can read it and then appear for these exams," he said to huge applause from a hall packed to its capacity.
"Pana manave tevadhe abhar kamich aahet,"(No matter how we thank her for the announcement, it won't be enough)," Thackeray said.
Over to you Mamatadidi,and beware Mr Bhattacharya!