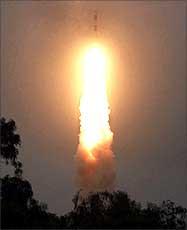 Indian Space Research Organisation chief Madhavan Nair on Saturday virtually admitted that the Chandrayaan-I moon mission could be over, saying it is a 'pretty difficult' situation.
"At the moment, we have suspended the mission. Calling it off would depend on what has failed. We are trying to analyse what has gone wrong and we will take a look at it on Sunday," he told reporters.
Asked if there was any hope of the mission surviving, he said he can't confirm anything at the moment.
Nair said the Chandrayaan-I team was analaysing what has gone wrong and whether there is any possibility of recovery. Asked to comment on the success of the mission, he said the technological objectives, launching and going to the moon were precisely achieved and "I will give 100 per cent marks for that."
"As far as the scientific objectives are concerned, 95 per cent of the objectives have been completed. So, we are not unhappy but at the same time if you gave more life, we would have collected more data and that could have given us the opportunity to recheck what we have collected," he said.
Asked whether the mission was over, he said, "We will have to face the reality but we will have better opportunity tomorrow."
Nair pointed out that even at the fag end of the mission, ISRO and the National Aeronautics and Space Administration had performed an unique joint experiment, so that the Indian space agency could yield additional information on the possibility of existence of ice in a permanently shadowed crater near the north pole of the moon.
Image: India's Polar Satellite Launch Vehicle (PSLV) C-11 takes off carrying India's first unmanned moon mission Chandrayaan-1 from the Satish Dhawan space centre at Sriharikota on October 22, 2008.
Photograph: Reuters