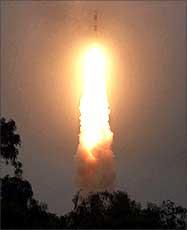 The Indian Space Research Organisation has declared that Chandrayaan-1, India's first moon mission is over.
Project Director Annadurai, told mediapersons, " Mission aborted and mission accomplished."
The decision to abort the mission was finally taken by ISRO the radio contact with Chandrayaan-I spacecraft was abruptly lost at 0130 hrs (IST) on Saturday.
Annadurai said that the mission had to be aborted due to this reason.
However, he also added that the mission had been accomplished since Chandrayaan had completed almost 96 per cent of the mission.
The communication link was lost at 1.30 am on Saturday and its whereabouts were not known. ISRO was also not able to send or receive any data. ISRO says that there was a major anomaly in the spacecraft as the radio contact had been abruptly lost.
Public Relations Officer of ISRO P Satish said that they have not been able to receive any data or command. We do not know what is happening to the spacecraft and that they were unable to establish any communication, he said.
It may be recalled that Chandrayaan-I spacecraft was launched from Satish Dhawan Space Centre Sriharikota on October 22, 2008. The spacecraft has completed 312 days in orbit making more than 3400 orbits around the Moon and providing large volume of data from sophisticated sensors like Terrain Mapping Camera, Hyper-spectral Imager, Moon Mineralogy Mapper etc., meeting most of the scientific objectives of the mission.
This is the second time that Chandrayaan is running into trouble. A month back it developed a snag when it lost one of its sensors which forced ISRO to push its orbit from 100 kilometers to 200 kilometers from the moon's surface. The change in orbit meant the data would be of lower quality.
Image: India's Polar Satellite Launch Vehicle (PSLV) C-11 takes off carrying India's first unmanned moon mission Chandrayaan-1 from the Satish Dhawan space centre at Sriharikota on October 22, 2008.
Photograph: Reuters