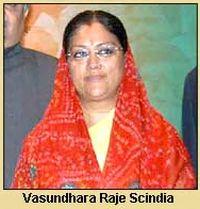 The legislature party of the Bharatiya Janata Party's Rajasthan unit on Wednesday unanimously decided to boycott the state assembly session, commencing from August 27, to press for the revoking of suspension of three of its Members of Legislative Assembly.
The legislature party held its meeting in Jaipur on Wednesday to finalise the strategy for the assembly session. Leader of Opposition Vasundhara Raje chaired the meeting, which was attended by more than 70 MLAs.
Speaking to the media after the meeting, Deputy leader of Opposition in the state assembly Ghanshyam Timwari said, "Today's meeting decided to boycott all the proceedings of the assembly, and also to stay away from the meetings of legislative committees, unless and until the Treasury benches make a move to revoke the suspension of the three MLAs."
"The party legislators will sit on a dharna in front of the main gate of the assembly, and protest against the illegal suspension of the legislators," Tiwari added.
The meeting decided to stay away from the Business Advisory Committee meeting on Thursday as a first step of the boycott.
According to sources, the meeting did not discuss the election of a new leader of opposition to replace Raje, who has been asked by the party's central leadership to relinquish the post.
State assembly Speaker Deepender Singh Shekhavat suspended MLAs Gyandeo Ahuja, Bhawani Singh Rajawat and Hemsingh Bhadana for the remaining period of the assembly on July 28.
The Rajasthan assembly witnessed uproarious scenes on the last day of the session on July 28, following the Supreme Court's notice to the state Home Department for failing to arrest Parbat Singh, an accused in a rape case.
The assembly is meeting for a short duration from Thursday after a gap of one month.