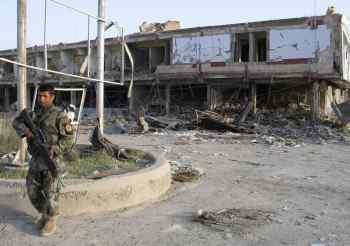 Nearly 40 people were killed and over 80 injured when a truck bomb exploded near a Japanese construction company in Kandahar, the birthplace of the Taliban, in Afghanistan on Tuesday night.
The blast was caused by a truck which had been packed with explosives, and the powerful blast managed to shatter windows of buildings located over a mile away. Several nearby houses collapsed due to the impact of the blast, and officials fear that the death toll might go up.
The blast occurred close to a building of Afghanistan's intelligence agency NDS. Other buildings located in the neighbourhood include an United Nations office and a high school.
The Japanese construction company has been involved in building a road through an insurgent-held area.
The blast comes in the wake of presidential elections in the war-torn country that was held on Thursday amidst wide-spread violence and was marked by a low turnout.
Image: A soldier keeps a watch at the site of the bomb blast in Kandahar | Photograph: Reuters