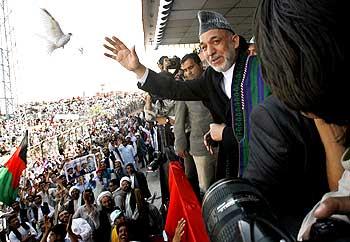 Afghanistan's President Hamid Karzai, who is seeking a second term in the country's upcoming presidential election, greets supporters during his first election rally in Kabul on August 7. The presidential election will be held on August 20.
It was one of of Karzai's first outdoor public appearances since an assassination attempt last year. Karzai, who appeared at a football stadium, has limited his outdoor appearances since the attempt to kill him at a military parade last year.
Karzai remains a frontrunner but faces a serious challenge from his main rival, Abdullah Abdullah, a former foreign minister in his cabinet.
There are fears violence could threaten the country's second presidential election.
Photograph: Reuters/Omar Sobhani