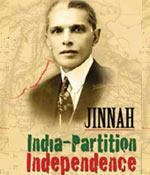 Lauding Jaswant Singh's book on Mohammad Ali Jinnah, Pakistani historians have termed the Bharatiya Janata Party's decision to expel the party leader "unjust and biased".
"It is the writer's personal viewpoint and has nothing to do with party matters. Such acts show the BJP's severe hatred towards Pakistan. The BJP never wants good ties with the neighboring country," say Pakistan-based experts.
 
Talking to rediff.com, Dr Mubarak Ali, a Pakistani historian said that the BJP always disliked Pakistan and held Jinnah responsible for the Partition while Jaswant Singh had rejected the idea by "holding Nehru responsible for the Hindustan's split".
 
"Jinnah was never behind the split of Hindustan in the Cabinet Mission Plan. Jinnah favored a united India, but Nehru went against him and compelled Jinnah to voice for Pakistan, the only option in front of him. It is not Jaswant Singh that blamed Nehru. Maulana Abdul Kalam Azaad has written that Nehru was behind the partition."            
 
Jaswant in his book has written that Jinnah had no problems with Hindus.
"Yes, Jaswant Singh is right in his assessment, as majority of Jinnah's friends were Hindus or Persians, even after Partition he asked his Hindu friends not to go to India. He never went against Hindus on the basis of religion, even his political gurus at the early stage of his career were Hindus," Ali added.  
 
He said, "The BJP should tolerate Jaswant, but it seems there is zero-tolerance policy inside the party for members who speak for Pakistan. Sometime back L K Advani called Jinnah as secular leader and his life was made miserable.
"Jaswant is not the first person to call Jinnah secular. Earlier, Ajeet Javed in his book 'Nationalist or Secular' has also put Jinnah in the list of secular leaders. Jaswant Singh is right as Jinnah could not be called as religious figure, but he was a secular indeed; after studying Jinnah's career no one can say that there was anything related to religion in Jinnah character----he was also a nationalist leader."    
         
Ali said, "It is the fate of two countries to have such hatred for each other. The Pakistani Army never wants good relations with India while at the same way Hindu extremist parties don't like good ties with its neighboring country and Jaswant's expulsion is the leading example. Neither Pakistan nor India was serious to solve the outstanding issues between them."     
 
He said, "Pakistani historians should also write books over Indian heroes like Jaswant has written over Jinnah. In our country, the images of Nehru and Gandhi were negatively depicted. I think Pakistani historians should write books that highlight the real characters of the Indian Hindu leaders, which is the only way to bring closer the two countries, especially the young generations."
 
Tahir Kamran, chairman department of history, Government College University, Lahore said, "Jinnah was also an Indian leader who played his role in freedom of Hindustan. So his role should be highlighted as Jaswant Singh has done in his book. According to Jaswant Singh, Jinnah was not wholly responsible for the partition; I totally agree with him that  if Nehru and Patel showed some positive attitude there would have been no  partition."
"Jaswant's book is based on facts and he should not be criticized. It is injustice on the BJP's part to expel him for writing such a good book", he added.