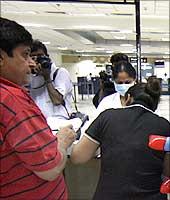 Swine flu claimed its fourth victim in Mumbai on Thursday when a 35-year-old man died of the disease at a civic hospital on Thursday evening. Dattatraya Gawde, a resident of suburban Ghatkopar, died at the Kasturba Hospital, Additional Municipal Commissioner Manisha Mhaiskar said.
"When he was brought to the hospital on August 18, he had acute respiratory distress syndrome and was put on a ventilator," Mhaiskar said.
"His throat swab was taken and he was immediately given Tamiflu. The test report came on August 19 and he was found positive for H1N1," she said.
Gawde was referred to Kasturba Hospital from Satyam Hospital, where he was admitted on August 17 with high fever, after he displayed symptoms of the flu, civic official said. Gawde had returned from Pune on August 6, the official said, adding that he was suffering from severe diabetes.
The earlier flu deaths in Mumbai include 53-year-old Fahimda Panwala (August 8), 63-year-old Sayeeda Doorjiwala (August 11) and seven-month-old Modia Mohammed Shaikh, who died on August 18.