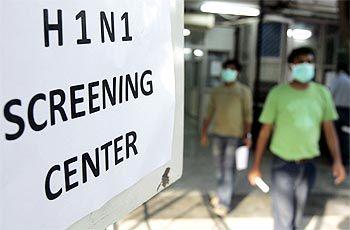 Swine flu claimed four more persons, three of them women, in Karnataka, pushing up the toll to nine and making the state the second worst-hit in India, after Maharashtra, due to the disease. Krishnaveni, 45, and Kalpana, 36, died in hospitals on August 17 while N Prema, 23, succumbed to the virus on August 16.
The other victim, Edward Mohan, 45, died in another hospital on Wednesday. The swab test results of two of the victims, confirming the H1N1 status, were received on Wednesday and of another on August 17, according to Director of Health and Family Welfare Usha Vasunkar.
With the latest fatalities, Karnataka accounts for the second highest number of swine flu related deaths in the country after Maharashtra, which has reported 20 deaths.
Krishnaveni was admitted to a hospital on August 15 with symptoms of cough, cold and fever and was put on the ventilator. Prema was also admitted on August 15 with similar symptoms and was put on the ventilator as well.
She died the next day but her swab test report was available only on August 17. "Both the patients came in late and were in a critical condition when they were admitted. They had been administered Tamiflu right from the day of admission," Vasunkar said.