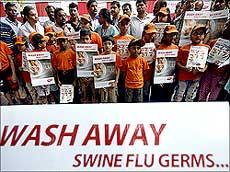 The number of deaths due to swine flu in India rose to 25 on Saturday with a man succumbing presumably to the deadly virus in Vadodara, and another person dying in Karnataka, even as Prime Minister Manmohan Singh promised all possible steps to control the spread of the disease.
A 52-year-old man, who had come from Pune today morning, died at the SSG Hospital in Vadodara, taking the number of deaths in Gujarat to three, Health Department officials said.
According to Gujarat Health Minister Jaynarayan Vyas, "The patient Jayesh Shah was admitted to a hospital today afternoon after he came from Pune in the morning. He was in a critical condition and so he was put on ventilator".
"He died to due to renal and multiple organ failure. It is presumed to be a case of H1N1 as no sample could be tested because he came in the morning and was brought to the hospital in the afternoon," Principal Secretary (Health) Ravi Saxena said.
Karnataka registered its third swine flu death when 28-year-old Manjunath died on Friday  evening at a private hospital.
An official report from Aurangabad said three persons, suspected to be suffering from swine flu, died in Marathwada region of Maharashtra. However, it is yet to be confirmed whether the casualties were because of H1N1 virus or some other disease.
With Pune being the worst hit, over 60 screening centres are functioning in the city, he said, adding that such centres would be opened at 24 rural hospitals and 96 primary health centres.
So far, 117 cases of swine flu have been reported from across the country, taking the total number of those afflicted by the viral disease to 1,390.
Addressing the nation on the occasion of Independence Day, the prime minister said, "The central government and the state governments will together continue to make all necessary efforts to control the spread of this infection".
"I also want to assure you that the situation does not warrant a disruption in our daily lives because of fear and anxiety," he added.