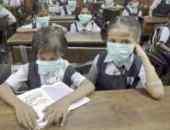 Pune guardian minister Ajit Pawar on Saturday said that more doctors and nurses are required in different hospitals in the city to tackle the menace of swine flu.
"Going by the number of patients admitted to different hospitals and people thronging the screening centres, we have asked the government to arrange for services of 100 doctors and 70 nurses in addition to the existing staff at these hospitals," Pawar said.
"Following the request, the government has already sent 80 doctors and 45 nurses. We need some more doctors and nurses to tackle the situation," he said.
"The pressure on doctors would be reduced if adequate number of staff is provided at the hospitals," he said. He said that the officials are strictly following the suggestions given by the central team of health officials. Pawar, who is also the state water resources minister, held a meeting with officials to review the situation arising out of the swine flu.
Pune Collector Chandrakand Dalvi, Pune Municipal Corporation chief Mahesh Zagade and health officials, Zilla Parishad officials and the city mayor attended the meeting.
Although the situation has come under control, it is not time for the authorities to relax, he said, adding that even rural hospitals and primary health centres have been asked to screen patients and prescribe Tamiflu to those with flu symptoms. Stating that hospitals have adequate number of Tamiflu tablets, Pawar said that the situation has improved in the last 36 hours and only three patients are currently on ventilation.