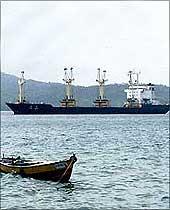 Two nuclear scientists, who have conducted a preliminary investigation of the seized North Koran ship MV Mu San, have said the vessel does not contain any trace of chemical, biological, radioactive or nuclear material.
The scientists from the Kalpakkam nuclear power station conducted the preliminary investigations at Port Blair in the Andaman and Nicobar Islands.
The North Korean vessel dropped the anchor at Hut Bay on August 6 without the permission of Indian authorities. It was detained by the Indian Coast Guard after an over six-hour chase.
Security agencies, however, brought the ship to Kakinada Port in Andhra Pradesh for further investigations.
According to sources, the Indian security agencies are planning to conduct a search with sophisticated equipment after offloading 16,500 kilograms of sugar from the ship.
Meanwhile, the Union Home Ministry has sent a stern letter to Port Blair police, asking it  to file a report on the entire chain of events, which led to the interception of the ship.
United Nations' sanctions imposed on North Korea have the provision for inspection of ships at any port and on the high seas.