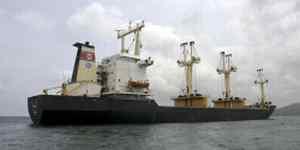 India on Saturday said the North Korean cargo ship, which illegally entered its territorial waters, had 'no business' to be there, even as its captain claimed it had done so due to mechanical problems.
Navy chief Admiral Sureesh Mehta said in Delhi that the M V San 'had no business' to be in Indian waters and that the maritime security agencies had fears that it could be carrying nuclear components.
"The fact is that the ship had no business to be there," he said, adding "that (it was carrying nuclear components) was our apprehension also. At the moment, it is carrying genuine merchandise."
Coast Guard Andaman and Nicobar Region Commander K R Nautiyal said, "We are in the process of investigation. Expert agencies, including Korean interpreters, are likely to come to facilitate better communication, because they (crew members) are not very good in English."
However, the one information that the Coast Guard could extract from M V San's captain was that the ship had entered the Indian waters about 65 nautical miles south of Port Blair due to a mechanical fault, which could not be corroborated.
"There are a few inconsistencies, which have been found about the ship, like some papers are not in order," he said. Since the cargo vessel was brought to Port Blair at 5 am on Friday, the investigating agencies have learnt and verified that the ship, which set sail from a port in Thailand on July 27, was carrying 16,000 tonnes of sugar to an Iraqi port.
The Coast Guard had noticed M V San anchored off Little Andaman on Wednesday and its joint effort with the Navy, to get a response to radio signals, had failed. Consequently, the Coast Guard flew one of its aircraft to check out the cargo vessel, but yet again the ship did not respond to its radio communication.
The Coast Guard sailed its patrol vessel CGS Kanagalatha Barua and the Navy INS Brinkat to visit the cargo vessel and carry out its investigation. On seeing the military ships, M V San tried to flee and the Coast Guard fired a warning shot to force it to comply to their order to sail to Port Blair.
"Our ships reached the cargo vessel around 9 pm on Thursday and M V San started proceeding in a different direction. At that stage, we had to warn the ship that we need to carry out investigations for safety's sake," Nautiyal said. "So we fired a round in the air just to make the vessel obey," he added.
Nautiyal also said there were other issues that the investigating agencies had to verify from the cargo vessel's agents and other agencies involved in supporting the vessel in various countries. "The ship was supposed to have gone to Iraq, but changed its destination, which happens while at sea. They could have been asked (by their agents) to go to different location," he added.
Nautiyal said once the investigators make themselves sure that there was nothing untoward about the cargo vessel, it would be asked to proceed to its destination.
"In case, there is something, which comes out during interrogation, then further course of action will be decided based on the final probe report," he added. In the last decade, Indian maritime security authorities have seized at least two North Korean vessels unauthorisedly entering Indian waters off the western coast.
In 1999, North Korean vessel M V Ku Wol San was seized and found to be carrying 177-tonne nuclear components and manuals, though the ship's manifest claimed it was carrying 13,000 tonnes of sugar and water purification equipment. Ku Wol San was seized off Kandla and it was suspected to be transporting nuclear components to Pakistan's Karachi port.
However, the North Korean government claimed the material was going to Malta and was meant for Libya. Again in October 2006, Coast Guard ships had intercepted North Korean vessel M V Omrani-II close to Maharashtra coast, but found it empty, a fact that intrigued investigators but did not receive a convincing reply from the crew.
Image: A North Korean ship, MV San, is seen anchored near Port Blair | Photograph: Sanjib Kumar Roy/Reuters