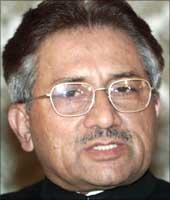 Former Pakistan president Pervez Musharraf, who was recently booked by the police for illegally detaining scores of judges during the 2007 emergency, has said that he will return to Pakistan very soon. Musharraf told a TV news channel he would always be with Pakistan when he was needed.
He said he had been busy making the rounds of the international academic circuit delivering lectures and would return to Pakistan as soon as he finished his commitments. Pakistan's Supreme Court in July declared the emergency imposed by Musharraf in November 2007 as unconstitutional and illegal, raising the possibility of his trial on charges of treason.
A police station in Islamabad recently registered a case against the former military ruler for illegally detaining over 60 judges and their families during the emergency. Police officials have said Musharraf faces the possibility of being arrested on his return to the country.
Replying to a question, Musharraf said he was ready to face any legal challenges or cases registered against him. He said he did not intend to live abroad permanently. Musharraf left Pakistan in mid-April to deliver a series of lectures and to address think tanks in several countries. For the past few weeks, he has been living in London.