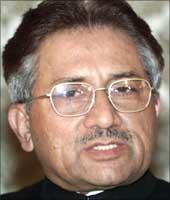 In what may be seen as a strategic move to protect former Pakistan president General Pervez Musharraf from charges of high treason, senior British diplomat Mark Lyall Grant met top political leaders in Islamabad.
Grant, who had served as the high commissioner in Islamabad, met President Asif Ali Zardari on Tuesday and is expected to meet Pakistan Muslim League-N chief Nawaz Sharif on Wednesday.
Grant's spree of meetings has triggered speculations that he might seek concessions for Musharraf, the Dawn reports.
According to sources, during his meeting with Zardari, Grant also called for expediting the trial of the accused in the Mumbai terror attacks, and provide New Delhi with some 'face saving' gesture so that the peace talks could resume.
It may be noted that Grant, who is currently the director of political affairs at the British Foreign Office, had also helped Musharraf escape impeachment by parliament after he was forced to step down.
Sources said Grant is also trying to achieve reconciliation between the Pakistan People's Party and the PML-N.
Meanwhile, the United States has said it will not interfere with the Musharraf issue.
Terming the issue as Pakistan's internal matter, US foreign office spokesperson P J Crowley said, "The government of Pakistan will do whatever it wants with former president Musharraf and US will not interfere in that."
Crowley said Washington is currently focused on the upcoming Afghan elections.
"US, at the moment, is deeply focusing on the forthcoming Afghan elections and following its successful conclusion, US will hold dialogue with the Taliban," he said.