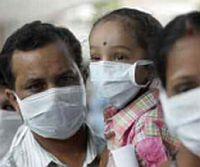 With three more swine flu cases detected in Lucknow on Wednesday, Uttar Pradesh's count of the dreaded virus has gone up to 15, indicating a clearly rising trend in India's most populous state.
"Three fresh cases were detected out of the 17 samples we received on Tuesday afternoon," disclosed Dr T N Dhole, head of Microbiology at the Sanjay Gandhi Post-Graduate Institute of Medical Sciences (SGPGIMS), the state's only authorized centre for testing the HINI virus .

While one of these patients belonged to Lucknow, the other two were from Kanpur, about 80 Km from the state capital.

As many as 11 of the 50 samples referred to the centre on Tuesday, had also tested positive, with eight being from a single household.

"The fact that eight of the 11 positive cases were from the family of a former Congress leader, Ammar Rizvi, whose 5-year old grandson was the first case to be detected positive, shows how infectious and contagious was the virus," Dhole pointed out.

The little boy had reportedly contracted the disease in England from where he had returned recently after a holiday.

"The newly detected cases had been referred to the respective chief medical officers of the districts, where they were to be treated," Dhole pointed out.

UP's principal health secretary Pradeep Shukla said, "We are keeping a round the clock vigil across the state and since all district hospitals have been well equipped with the necessary treatment, we see no reason for panic."

Shukla is also holding daily video-conference with chief medical officers of each of UP's 70 districts to keep tab on the swine flu situation.