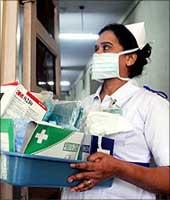 As many as 11 fresh swine flu cases were detected in Lucknow on Tuesday, in which eight belong to the family of the former Congress minister Ammar Rizvi, whose grandson was the first swine flu case to be detected in the state last week.
This takes the total number of cases affected by the dreaded virus to 12 in the state.
Significantly, Rizvi's 5- year old grandson Hasan had apparently brought the infection from England where he had gone on a holiday.
Of the remaining three, there was an 8–year-old child who had returned recently from Singapore. The sample of an 18- year-old boy from Allahabad had also been tested positive, while the third person belonged to Faizabad.
Dr S Dhole, professor and head of the department of Microbiology at the Sanjay Gandhi Post-Graduate Institute of Medical Sciences in Lucknow said, "The 11 positive cases were detected out of the 50 samples that arrived in our laboratory over the past 24 hours."
He said, "17 more samples were received on Tuesday and their report would be ready by late night or early Wednesday morning."
Dhole , however sought to make it loud and clear that "this should not be cause for any kind of panic as each of the detected cases were found carrying only primary infection, that is easily curable ."
He was of the view that "secondary infections were what we needed to guard against."

Asked whether all the detected patients were put in isolation, he said, "Well, we have referred these cases to the district chief medical officer, who are supposed to provide the necessary treatment."

On being contacted, CMO Dr A K Shukla claimed, "All the patients were being looked after well and the required drugs were made available also to those who had preferred to stay in their homes instead of getting admitted to hospitals."

He was of the view that, "Fortunately, all the patients looked quite healthy; even the 5-year old boy who was the first one to be detected positive in Lucknow last week, looked healthy."

Shukla was confident that each of the local cases would positively get cured. "There was no reason to panic as we are well equipped to deal with the menace," he added.