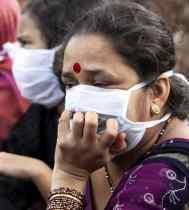 Two men, including a doctor suffering from swine flu, have been admitted in a serious condition to a Pune hospital, taking the total number of cases in the city, one of the worst-hit by the virus, to 120.
A doctor, who works with Inlaks Hospital in camp area, was admitted to the Intensive Care Unit in Sassoon General Hospital after he tested positive for the virus, according to Civic Medical Officer R R Pardeshi. Doctors attending on him have described his condition as serious.
A 35-year-old swine flu patient was admitted to the same hospital on Thursday night in a critical condition. The patient, who was brought from a private hospital in Hadapsar area, has been put on ventilator, said Dr Pardeshi.
The patient was examined at Naidu Hospital on Wednesday, where his throat swabs were taken for H1N1 testing. After his blood samples tested positive for swine flu at the National Institute of Virology today, he was immediately taken to the isolation ward of the Sassoon General Hospital, Pardeshi said.
Dr Pardeshi said the patient had no information on the 'contributory history' of the infection -- there was no known positive contact responsible for transmission.
A 14-year-old girl died of swine flu in Pune on Monday, becoming the first victim of the disease in India.