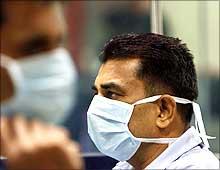 Family members of the 14-year-old Pune girl, who died of swine flu are set to slap civil and criminal charges against the private hospital where she was admitted.
The agitated family members of Rida Shaikh squarely blame the medical authorities in Pune, for wrong diagnosis.
Following Rida's death, the provincial Maharashtra government has decided to invoke the Epidemic Act in Pune and Satara districts of the state, to check the spread of swine flu.
The family lawyer said, they wanted to teach the private hospital a lesson by initiating action against them.
"We are going to take civil action, we are going to take criminal action, we are going to do whatever is required to be done. The family is not interested in money but yes, we are going to teach a lesson to these private hospitals, we are going to sue them for damages and we are going to take huge sums of money from them. Obviously we are not interested in money, the money which we obtain, will be given to charity," said Asif Lampwala, lawyer of Rida's family.
Rida's aunt charged the hospital of taking chances on their child.
"Obviously if you are a parent you would, want the best for your child. You would want facilities, you would want to go to the best of doctors and you would want to go to big hospitals. How will you know that the hospitals are taking chances on your child?" said Ayesha Shaikh, Rida's aunt.
Rida was admitted in a private hospital on July 26 with symptoms of sore throat, running nose and headache.
According to her parents, the doctors initially diagnosed it as a case of pneumonia.
Later, Rida was put on a ventilator when her condition deteriorated.