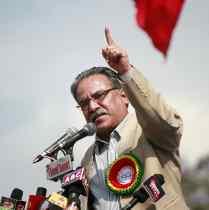 Maoist chief Prachanda has alleged that India and the United States had planned to launch an anti-China campaign, even a possible attack on the Communist giant, using Nepalese territory.
"I had to quit the post of prime minister as my party was opposed to allowing our territory to be used against China," Prachanda was quoted as saying by the Rajdhani daily.
"The US-India plan had to face challenges from our party and that triggered the conspiracy against my government," Prachanda, who quit following a rift with his coalition partners over his controversial decision to sack the army chief, said at a training programme of the Maoists in Kathmandu.
Prachanda had earlier blamed India for toppling his eight-month-old government in May this year. The Maoist chief said he was quoting a senior Indian professor while making these statements but did not name the Indian scholar.
He alleged that reactionary and conspiratorial elements have been deceiving the Nepalese people by acting as agents of the foreign powers. "But we will never bow down before any power for the establishment of peace and writing the constitution," he said.
A conspiracy was being hatched to sabotage the writing of the constitution, he claimed.
Prachanda's allegations came ahead of a month long protest planned by his party, starting on Friday, aimed at maintaining 'civilian supremacy' and forming a government of national consensus under Maoists' leadership.
Text: PTI | Photograph: Reuters