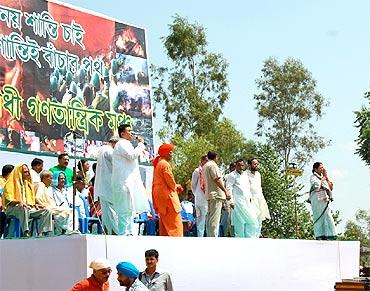 For some politicians like Trinamool Congress chief Mamata Banerjee, controversy is a way of life.
Causing considerable embarrassment to the United Progressive Alliance government, Banerjee, who is also the Union railways minister, recently questioned the killing of Maoist spokesman Cherukuri Rajkumar, popularly known as Azad, in a police encounter in Andhra Pradesh on July 2.
Parliament was in uproar on August 10 and 11 about newspaper revelations that the Trinamool rally in Lalgarh on August 9 was organised by Maoist front organisations.
Denying this on prime time television, Banerjee's ministerial colleague, Union Minister of State for Health Dinesh Trivedi, told NDTV's Prannoy Roy that the rally had in fact been organised by the Santrash Birodhi Ganotantrik Moncho, Paschim Banga (the Democratic Platform Against Violence, West Bengal).
Rediff.com's Indrani Roy Mitra spoke to Debabrata Bandyopadhyay, , chairman of the Santrash Birodhi Ganotantrik Moncho, about the Lalgarh rally.
Bandyopadhyay, a retired Indian Administrative Service officer, served as Union revenue secretary. He is also a member of the Trinamool Congress's advisory committee.
Mamata Banerjee's comments on Azad's killing has stirred up a hornet's nest. What is your opinion?
Every word of her statement is true.
You believe that Azad was 'murdered' and that there was no encounter. We hear that he was a victim of infighting among the Maoists...
These statements are all rubbish. He was 'murdered' by the police. It was a well planned execution.
Didn't Swami Agnivesh too demand an investigation into Azad's death earlier? Mamata only repeated the same demand.
How do you justify such a comment by a Union minister? As long as the Trinamool Congress is a part of the UPA, shouldn't the party stand by the government?
We should actually laud the TMC leader for having the guts to speak the truth in spite of her political status. It is a very brave gesture and we should be grateful to her.
Prime Minister Manmohan Singh has called the Maoists the biggest threat to India, but Mamata Banerjee almost offered an olive branch to them at the Lalgarh rally...
There is no denying the fact that the 18-month long Operation Green Hunt has been a total failure. What have the joint forces achieved? Nothing!
How much arms and ammunition have they managed to seize? Negligible!
Hence, opening a dialogue with the Maoists seems to be the only solution at present.
Is the Lalgarh rally the first step towards initiating such a dialogue?
Of course!
The government must stop Operation Green Hunt at once and must pave the way for peace talks. I wholeheartedly endorse what the Trinamool Congress chief said.
The Santrash Birodhi Ganotantrik Moncho is supposed to be an apolitical outfit. How do you justify the presence of so many Trinamool faces at the rally?
It was Mamata Banerjee who declared at a rally in Kolkata on July 21 that she would visit Lalgarh on August 9. The entire idea was hers.
As the key functionary of the Santrash Birodhi Ganotantrik Moncho that convened the Lalgarh meeting, I thought it was logical to invite Banerjee and her colleagues.
Besides, please don't overlook the fact that the meeting was attended by activists like Medha Patkar and Swami Agnivesh. Also, a large number of SUCI (Socialist Unity Centre of India) members attended the gathering.
The presence of SUCI men doesn't prove anything as we have a Trinamool-backed SUCI MP Tarun Mondal in Parliament, right?
(Pauses.) No. You need to judge SUCI's presence at the rally from a different perspective altogether.
That they were present there indicates that they too sympathise with the TMC leader's standpoint. Unless they were in agreement with what she felt and said, they would not have attended the rally.
It goes without saying that anti-Left forces in Bengal are coming together to drive out the 'evil forces'.
It means you are absolutely certain that Left Front will be wiped out in the 2011 assembly election.
Yes. They have no moral right to rule West Bengal any more.
For over three decades, they have done enough damage and now it is time for their departure.
On the eve of the West Bengal civic elections, some pro-Trinamool intellectuals had called a press conference where they appealed to the people of the state to vote for the TMC. Is this stand justified?
Of course! It was their duty to do so.
The Congress-Trinamool alliance did not happen prior to the election and the people could have been confused.
To counter this as also to prevent the Left Front from taking advantage of a broken Congress-TMC alliance, the intellectuals had to come together and make such an appeal. It was the best step they could take under the circumstances.
Do you believe things will improve in West Bengal after the Trinamool Congress comes to power?
Oh yes! I am absolutely certain about it.
If there is one political party that can ring in a change in Bengal, it is the TMC.
Mamata Banerjee would usher in the winds of change that is long overdue.
Do you know that in the last 32 years, more than 55,408 political murders have taken place in Bengal? Would you term this a democracy?
The Left Front regime has been nothing but a reign of the mafia. It is high time we got rid of it.
Image: Mamata Banerjee, right, at the Lalgarh rally. Photograph: Dipak Chakraborty
Also Read: Azad's killing: Some unanswered questions
Ministers who give the PM a headache
What Mamata told the Maoists in Lalgarh