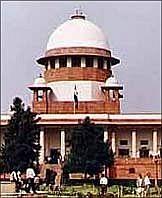 A section of the legal community, including former Chief Justice of India J S Verma, have demanded that judges make public their assets and liabilities.
However, this proposal has met with opposition by other legal luminaries. Chief Justice of India K G Balakrishnan at first said declaring assets would embarrass a few judges, but later stated it was up to each judge to decide whether s/he wanted to declare their assets or not.
Taking up this cause is senior counsel Prashant Bhushan, who has written to all judges to declare their assets and liabilities.
Bhushan told rediff.com's Vicky Nanjappa that the judiciary's response on this issue has been unsatisfactory.
You have written to all the judges in the country to make public their assets and liabilities. What has the response been?
I am completely dissatisfied with the response. I had written letters to all judges in January to come forward and declare their assets so that there would be accountability.
Just one high court judge, Justice Kannan (Justice D V Shylendra Kumar, a Karnataka high court judge, too filed his assets after this interview had been conducted) has filed his assets.
I was hoping that many more judges would come forward and file their assets, but it appears that the Chief Justice of India is deterring them.
Why has the response been so poor? Is it a question of ego?
It is not just a question of ego. A mixture of independence of the judiciary with a lack of accountability is the issue here. Judges over the past several years have become used to being non-accountable.
In some cases, I feel they have lots to hide and hence, there has been hesitation to come forward and file their assets.
The Chief Justice of India has said that judges are free to declare their assets. What then is the problem?
He has said that now. But has he done it? I feel just saying something is not sufficient. The Chief Justice should have come forward and declared his assets and set an example. This would have ensured that many more judges would have come forward.
I completely fail to understand why the Chief Justice on an earlier occasion said that forcing judges to declare their assets would embarrass most of them.
Why do you say the Chief Justice has been a deterrent on this issue? Justice D Shylendra Kumar of the Karnataka high court made it clear in a recent article that high court judges are not bound by the Chief Justice of India.
He is right in what he said. I think he has shown a lot of courage in what he said. But there is one problem, and that is what deters several judges to go against the Chief Justice of India. It is the Chief Justice who decides on matters of elevation and promotion (of judges).
What role can the government play?
The government surely can step in and take charge of the matter. However, what it has done so far is just not enough.
There was a bill which was passed that stated judges should declare their assets. However, the bill never mentioned that judges should make their assets public. There is no use of such a bill.
Is it sufficient if judges declare their assets just once?
No, not at all. I feel it should be an annual feature.
In such a scenario where do you see your fight for accountability going?
It sure will be taken to a logical end. This issue has caught the imagination of the public and this is putting a great deal of pressure on the judiciary.
I feel it is not too long before judges make their assets public.
Is India the only country where judges do not reveal their assets?
No. Many other countries follow the Indian scenario. I feel India should take the lead on this issue.
Our country has the most progressive Right to Information Act and in such a scenario, I don't understand why judges should not make public their assets.
Image: The Supreme Court of India.