Deepa Gahlot
Apologies right at the start for breaking two of my own rules: Never to use 'I' and never to get angry.
One question that has been repeatedly asked in the several mails I get in response to my columns is, "What the hell do you like!!!"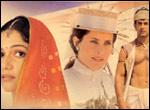 I didn't like Mohabbatein, I didn't go gaga over Mujhe Kucch Kehna Hai, I didn't think Lagaan was the best film ever made in India.
I don't like pointless fluff, I don't like jingoism, I don't like gangster films. So what DO I want??
I am about to answer that.
Going by the mails I get, I am accused by some irate readers of being snooty about commercial cinema, having a problem with escapism, and liking only boring films about poverty and angst. I'd say nyet to all of the above.
Forget the fussy, critical eye for a moment. As an ordinary viewer, I like escapism as much as the next person. I have nothing against poverty and grime, though I wouldn't actively seek it. My all-time favourite films are Ganga Jumna, Guide and Sholay -- can't get more mainstream than that!
However, I will say this much -- over the last decade or so, the quality of films has slid alarmingly. And that's what bothers me.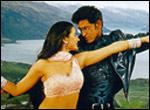 In 1991, there were at least 12 films that were way above average. The number has reduced to maybe two in 2000. Last year, Kaho Naa... Pyaar Hai was the biggest hit and won all the awards. But was it a great film by any standards?
Still, it was supposed to have been the best film made that year going by its 92 awards. It was a walkover -- where was the competition?
Kaho Naa... Pyaar Hai, Mujhe Kucch Kehna Hai, Lagaan, Gadar - Ek Prem Katha were okay, but merely best of a bad lot. Placed among a crop of films that included some of Hindi cinema's masterpieces, they would curl up and die of shame.
So out of a need to be entertained or for want of a better choice, audiences have consistently lowered their standards and accepted any film that gives them three hours' worth of 'time pass'.
I don't buy that!
When I see a film, I like a good laugh, a good cry. I like that heart-in-mouth feel. I want music that would make me dance in the aisles. I want heroes and heroines who are noble and worthy of admiration. The calculated-to-please-the-crowd designer films, the plastic emotions and hollow victories leave me cold.
I am picking just ten films from 1991 to 2000 which I liked. Going to a period before that would be indulging in nostalgia. Seen with the filter of time gone by, anything looks great.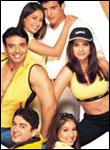 As one reader remarked, after 20 years, Mohabbatein would be considered a classic. I shudder to think of it.
The list does not include the ones that are contemptuously and unfairly dismissed as 'arty'. So Disha, Ek Doctor Ki Maut, Suraj Ka Satwan Ghoda, Bandit Queen, Godmother are regretfully excluded.
And it doesn't include the big blockbusters so Aankhen, Hum Aapke Hai Koun, Raja Hindustani, Karan Arjun, Dilwale Dulhania Le Jaayenge, Dil To Pagal Hai and Kuch Kuch Hota Hai are out -- though they wouldn't count as my favourites anyway.
Films dubbed from other languages are also not in, so Mani Ratnam and Priyadarshan are out.
This is a subjective -- eccentric even -- choice meant to answer the query, "What the hell do you like?" and readers have a right to a reply.
But I won't reply to any e-mails looking for a quarrel.
Right then, in chronological order:
* Saajan
Reema Rakeshnath had never heard of Cyrano de Bergerac. But she wrote a sweet story about a crippled poet (Sanjay Dutt), who cannot express himself to the woman (Madhuri Dixit) he loves for fear of rejection, and presents his handsome buddy (Salman Khan) to her as the poet she idolises.
Lawrence D'Souza is not a great director, but the sensitivity of emotions were built into the plot. The performances were excellent and Nadeem-Shravan's music outstanding.
Numbers like Bahut pyar karte hain, Mera dil bhi kitna pagal hai, Dekha hai pehli baar, Jiyen to jiyen kaise, are still hummable. (Last week's chartbusters have slipped out of the mind.)
Neither the writer nor the director have done anything noteworthy since, so one can only conclude that Saajan was a happy accident that worked!
* Beta
Indra Kumar used his trademark screaming style of direction. But again, the strong story and performances made this film very enjoyable to watch.
Aruna Irani played stepmom to Anil Kapoor, but tried to con him out of his inheritance with kindness. Then his wife (Madhuri Dixit) comes and turns the tables on ma-in-law. Madhuri looked lovely and acted with gusto, particularly the scene in which she stands up to the whole village accusing her of spending the night with Anil Kapoor.
Whether the hit, Dhak dhak karne laga was cheap or erotic depends on individual perception.
* Jo Jeeta Wohi Sikander:
Young Mansoor Khan had already made his mark with Qayamat Se Qayamat Tak. Jo Jeeta Wohi Sikander was straightforward, youthful, honest and inspiring.
Aamir Khan was wonderful as the teenager who discovers the value of love, duty and responsibility. When he wins the cycle race at the end, it was more convincing and uplifting than him winning a cricket match in 2001!
* Raju Ban Gaya Gentleman

A retelling of Shri 420's classic innocent-corrupted-in-city theme by Aziz Mirza had some lovely moments.
Shah Rukh Khan, who started his career playing very 'unheroic' heroes, was likeable as this fellow so down-and-out that his shoes have worn out, reaching for the sky (a rich Amrita Singh) but settling for true love (a sincere Juhi Chawla).
Nana Patekar had a ball playing Raju's conscience.
* Deewana
After seeing films like Jaan and Itihaas, who would believe Raj Kanwar once made a likeable love story?
A young widow (Divya Bharti) is encouraged by her kind mother-in-law (Sushma Seth) to marry again.
Just when she is settling down with her loving suitor (Shah Rukh Khan), her first husband Rishi Kapoor) turns up alive, throwing her life out of kilter.
The plight of the characters moved the viewer and the songs (Nadeem Shravan) were great -- Sochenge tumhe pyaar karen ke nahin, Aisi deewangee.
* Sir

Paresh Rawal's Veljibhai character made this Mahesh Bhatt film come alive.
Naseeruddin Shah played a stubborn professor bent on getting a stuttering young girl (Pooja Bhatt) to speak well, and her mafia don father (Rawal) to reform.
Gulshan Grover played the psychotic rival don, memorably named Chhapan Tikli, heading a dysfunctional family.
The film talked of love, honour, social responsibility, non-violence -- things one doesn't find in films these days. Anu Malik came up with some nice numbers -- Sun sun barsaat ki dhun, Aaj humne dil ka, Band hothon se.
* Hum Hain Rahi Pyaar Ke
Comedy is not Mahesh Bhatt's forte, but he pulled off this comedy caper thanks to his wonderful cast.
Admittedly, on first viewing, the film looked silly and tacky. But every subsequent watch reveals little nuggets of humour. Aamir played a stern businessman whose life is turned upside down by three kids and a runaway heiress (Juhi Chawla).
Juhi proved that she is the finest comic talent we have today. And the music (Nadeem-Shravan again) was pleasing -- Ghoonghat ki aad se, Mujhse mohabbat ka izhaar karta, Bambai se gayi Poona.
* Yes Boss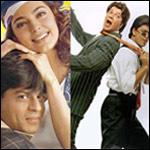 Dark by today's saccharine feelgood standards, this Aziz Mirza film was about real people who let their ambitions kill their values. But they realise the error of their ways and return to honest simplicity.
Shah Rukh Khan plays a man always ready to suck up to his boss (Aditya Pancholi), to the extent of almost pushing the girl he loves (Juhi Chawla) into the lecher's arms.
The bitterness was tempered by comedy and beautifully choreographed great songs (Jatin Lalit) -- Chand tare tod laaon, Main koi aisa geet gaaon, Suniye to.
* Mrityudand
This Prakash Jha film was not a big commercial success. You felt sorry that such a well-written, well-directed film with a sharply delineated milieu and flesh-n-blood characters was not given a better welcome.
Set against the crumbling feudal backdrop of Bihar, where politicians, smalltime crooks and power brokers run riot, it tells the story of the proud and strong Ketki (Madhuri Dixit), and how she fights fate.
Shabana Azmi, Om Puri, Mohan Joshi were all brilliant. Anand Milind's music score had some underrated gems like Kehdo ek baar sajna.
* Sarfarosh

John Matthew Mathan's debut film, starring Amir Khan as an upright and fearless cop after an ISI-funded, gun-smuggling gang, had all the popular ingredients in right doses.
The screenplay was intelligent and balanced and the pace brisk. Plus there were messages of patriotism, secularism, loyalty, devotion to duty duly included without being preachy.
Jatin Lalit came up with a varied score that included Jagjit Singh's Hoshwalon ko, plus romantic numbers like Jo haal dil ka. All in all, a remarkable film.
E-mail Deepa Gahlot