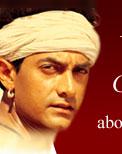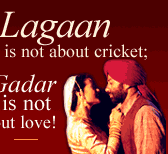 Deepa Gahlot
Jingoism is defined as, "Extreme nationalism characterised especially by a belligerent foreign policy; chauvinistic patriotism.Ē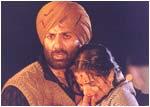 There is a scene in the recent release Gadar - Ek Prem Katha, in which the hero Tara Singh (Sunny Deol) is asked by his belligerent Pakistani father-in-law to shout pro-Islam and pro-Pakistan slogans (this is a few years after Partition), which he does with a bit of hesitation.
Then pa-in-law crosses the line and asks him to shout "Hindustan Murdabad," which is when Tara Singh huffs and puffs and blows the Pakistani army down.
The audiences all but jump with joy, as Tara Singh single-handedly beats heavily armed Pakistani troops (while in real life Pak-funded terrorism is the bane of India!).
In the other release the same week, Lagaan, a group of villagers in pre-Independence India, led by the plucky Bhuvan (Aamir Khan), take on the might of the British Empire toppling them in a bloodless coup -- a cricket match.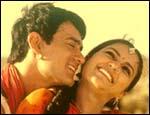 And audiences reportedly danced in the aisles when the dhoti-clad peasants defeated the arrogant Brits (while in real life the Indian team, still scarred by the match-fixing scandal, was being whipped by Zimbabwe).
Gadar is not really about love (never mind the Prem Katha tagged on to the title), neither is Laagan about cricket.
It's about showing the Pakis and the Goras that Bharat is Mahaan.
And if our dream factory won't remind and reassure us of our greatness -- in the midst of such overwhelming poverty and squalor -- who will?
The total budget of the two films is said to be Rs 450 million, which is a mind-boggling sum for a poor country.
And what were the two films selling but an escapist fantasy of unbeatable Indian Might? Made the collective Indian ego swell with pride, even as one slightly heavy monsoon shower in India's most prosperous city of Bombay disrupts life with flooded roads, overflowing sewers and pot-holed roads?
That's perhaps why nationalism (patriotism, jingoism, whatever) had proved to be as potent -- if not more -- an ingredient for box office success than the assorted variety of masala blends Indian cinema regularly churns out.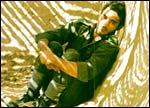 It feels good for the audience to know that the 'enemy' is having a tough time -- never mind if 'we' are miserable or starving to death.
Why just Indian cinema, even Hollywood comes up with its regular doses of jingoism. But in their case, it seems to be more a case of underlining America's superiority and Big Brotherliness, than making a wretched populace feel exalted.
Forget for a moment about Indian families in films closing ranks against Western cultural pollution -- Manoj Kumar ranted about it years ago even in those uncorrupted pre-globalisation days -- we are talking patriotism of the Border variety.
In this J P Dutta film, from blowing up Paki tanks to shouting insults across trenches, the pugnacious hero (Sunny Deol), and his Bharatmata-worshipping men did everything to win the battle they were fighting with Pakistan. And the audiences cheered like they had front row seats to a real gladiatorial contest.
Those guys in Border were not real soldiers (like the ones in Chetan Anand's Haqeeqat set against the Indo-Chinese War of 1962) dealing with fear, doubt, pain, but supermen who went singing to their deaths.
Soon after the Kargil conflict, Rajkumar Santoshi incorporated references to Pakistani defeat in Pukar and had audiences applauding.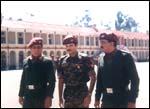 In Sarfarosh, John Mathew Matthan named the ISI as the aggressor and instigator of everything from Naxal ambushes to gun-running across the border, and the earnest hero (Aamir Khan) with his band of courageous men (including a patriotic Muslim deliberately written in to put forth the point of view of Indian Muslims constantly forced to prove their loyalty to India), trounce the Pakistani conspirators, the chief of whom is a popular mohajir (Pakistani term for Muslim refugees from India) ghazal singer, played by Naseeruddin Shah.
One hasnít seen too many Pakistani films, but one can be sure they show Indians as villains and win imaginary victories.
Overblown patriotism was always a part of our cinema but jingoistic tendencies started creeping into Hindi (Indian) films when terrorism reared its violent head. The horrors of cruel and random killing of innocents needed to be fictionalised and presented in a manner that would serve to console a disturbed national psyche.
And that meant the home side always had to triumph and cause the 'other' side maximum damage.
The more hysterical the declarations of Indian supremacy the more the audiences enjoyed it. Remember Mani Ratnam's Roja, in which the hero (kidnapped by Kashmiri militants), extinguishes the flames on a burning Indian flag by flinging himself on it?
Even the ridiculous rhetoric of films like Tirangaa and Diljale works if the right patriotic buttons are pushed.
In the simplistic world of mainstream cinema, it is too tough to deal with the complexities of internal problems and the real courage needed to face them at a day to day level.
It is far easier to take the problem outside (governments do it all the time), and find 'winning' solutions -- whether it is a cricket match against a group of gora saand or the whisking away of a beloved captive wife from under the noses of a huge bloodthirsty enemy mob.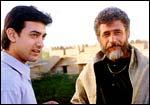 In the fictional, magical world of films, anything can happen. Victory can be snatched from the jaws of defeat and happy endings always be arranged. Makes for great entertainment and mass catharsis which, in these troubled times, might be just what is needed in small carefully spaced out doses.
The depiction of power and military or cultural superiority demands that there be an adversary. If there were no foe, filmmakers would have to invent one!
E-mail Deepa Gahlot