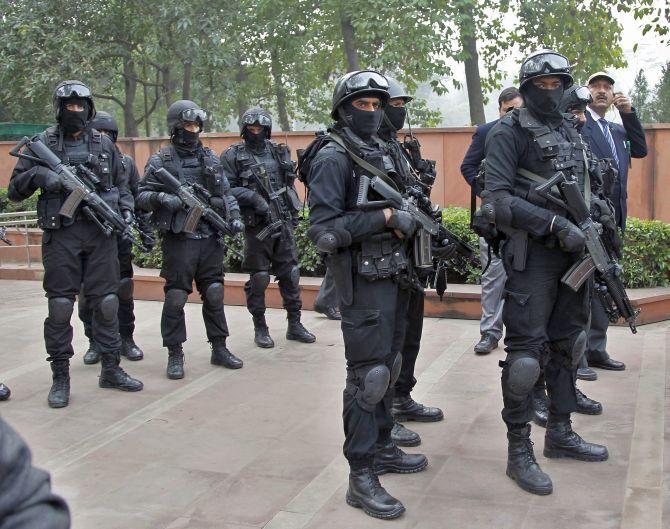 The National Security Guard, which provides top category security cover to select VIPs like Home Minister Rajnath Singh and a number of chief ministers, has upgraded its protocol and armour on lines of the Special Protection Group in view of the upcoming election season in the country.
The elite counter-terror force has adopted a 'close protection force' protocol, that totally reinvents its drills, to better secure dozen VIPs under its 'Z+' cover of 'black cat' commandos, official sources said.
With this change, NSG commandos now provide close-body protection to VIP protectee every time they visit a public place as compared to the earlier mobile security concept where commandos only secured the person while on move, the sources said.
The SPG, similarly, protects its VIPs outside and inside a venue with safari suit donning commandos encircling the VIP like their shadow, they said.
The CPF has been trained and created on the lines of the 'close protection team' concept of the SPG that provides proximate security to the prime minister, ex-prime ministers and their families, they added.
The change in the VIP security 'black book' of the National Security Guard has been made keeping in mind the threat perception profile of its protectees, ranging from the union home minister to chief ministers of Naxal violence and insurgency hit states, and the very busy forthcoming election season in the country, they said.
The new VIP security commandos' team have also been provided with a modern and compact hand-held ballistic shield, protective black goggles and state-of-the-art digital communication devices as part of the new security protocol, they said. -- PTI