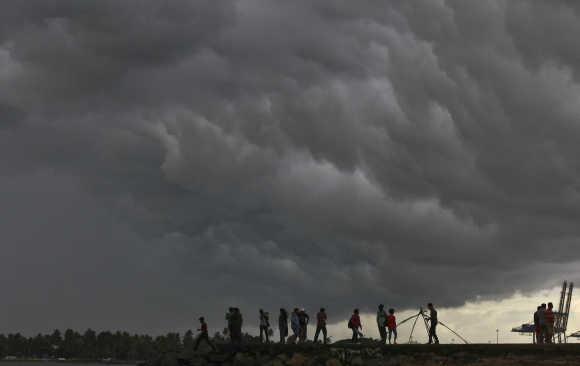 The monsoon season ended on Sunday with a "below normal" showing this year as the country recorded a nine per cent deficit in rainfall, according to the India Meteorological Department.
Alongside Bihar, Jharkhand and West Bengal northeastern states recorded the maximum deficiency, the weather agency said.
This is a second year in a row when monsoon ended with below normal rainfall.
This year saw Kerala receiving an unprecedented rainfall during the monsoon triggering one of the worst floodings in a century in which hundreds perished.
The monsoon also defied IMD's prediction of the country receiving normal rainfall.
Monsoon withdrew on Saturday, September 29, twenty-nine days after its normal withdrawal date.
The Southwest Monsoon, which is the main source of irrigation for crops and water supply for reservoirs, made its onset over Kerala on May 28, three days ahead of its normal schedule, the weather agency said.
The monsoon may have officially withdrawn, but several southern states, Goa and Maharashtra are expected to receive rainfall in the first week of October, the IMD said.
Overall, the country received 91 per cent of rainfall of the Long Period Average, which falls under "below normal" category, according to the IMD.
All four meteorological divisions of the IMD recorded lesser rainfall than its normal precipitation.
The highest monsoon deficiency was in the east and the northeast meteorological division of the IMD which comprises eastern states like Bihar, Jharkhand, West Bengal and the northeastern states.
This was followed by Central India where the monsoon deficiency was seven per cent.
The northwest division comprising all the northern states, and south peninsula recorded deficiency of two per cent each.
"A large deficiency came from the northeastern states. Plus, rainfall was deficient in Kutch, Saurashtra, Rajasthan east and Rajasthan west. Otherwise, rainfall was good across the country," M Rajeevan, the secretary, ministry of earth sciences, said.
Despite a prediction of good rainfall this season, June recorded a deficit 95 per cent while July and August saw respective deficits of 94 and 92 per cent.
However, September saw a sharp decline of rainfall registering 76 per cent rainfall of the LPA, Mritunjay Mohapatra, the additional director general, IMD, said. -- PTI