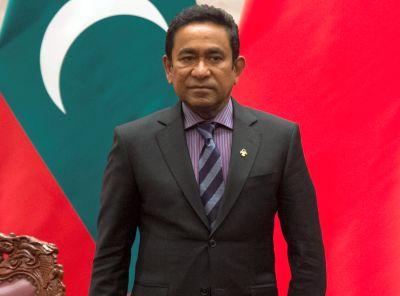 Sri Lanka said on Tuesday it is ready to welcome outgoing Maldivian President Abdulla Yameen, days after his surprise defeat in the election.
Prime Minister Ranil Wickremesinghe has spoken on the phone to Yameen, the premier's office said in a statement.
Yameen lost Saturday's presidential election to the joint opposition coalition headed by Ibrahim Solih.
Wickremesinghe congratulated Yameen for conducting free and fair polls, and assured him that Sri Lanka would welcome him at any time.
The statement also said that former Maldives president Mohamed Nasheed, who is in exile in Colombo, had met Wickremesinghe on Monday and urged for the continuation of Sri Lankan investment in the Maldives.
Sri Lanka has hosted several dissidents from nearby Maldives through years of political turmoil in the Indian Ocean archipelago, including hundreds of Yameen's opponents since he became president in 2013.
Wickremesinghe was personally invited by Nasheed to attend Solih's inauguration as president in November. Nasheed's Democratic Party has based its offices in Colombo since most opposition leaders in the Maldives were arrested under Yameen's rule. -- PTI