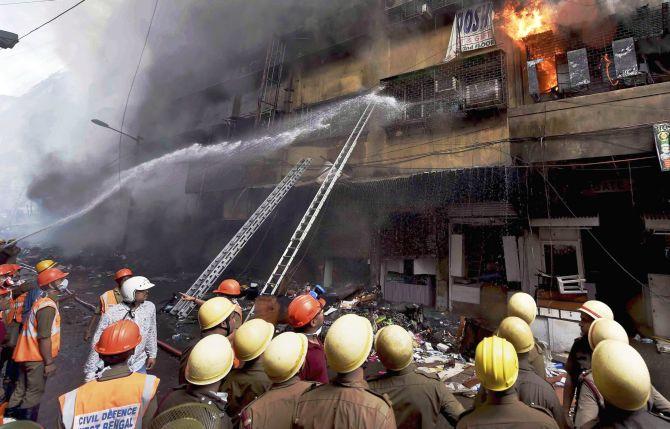 The massive fire at Bagree Market near Burrabazar area - the city's commercial hub- could have been averted had building owners installed adequate fire safety measures, Mayor Sovon Chatterjee said.
However, some traders said the multi-storey market had fire alarm systems on every floor.
Despite warnings, the market authorities did not install adequate fire safety equipment in the building, the mayor, who also holds the Fire Services portfolio, told reporters.
"I visited the building on several occasions and held meetings with market authorities, asking them to take steps to ensure the safety of the building. Last month, too, a meeting was held in this regard. A water tank on top of the market did not have proper pipelines to take care of eventualities," he said.
The Kolkata Municipal Corporation has formed a committee to review the status of commercial buildings across the city.
"Based on reports filed by the KMC, we haul up building owners. The review is carried out every year," Chatterjee explained.
The fire department had in the past recommended steps to authorities, but no such measures were taken, he claimed.
"The market authorities kept insisting that we extend the deadline for installing fire fighting equipment. The tragedy could have been averted if they took action on time," he maintained.
Asked if he would take action against defaulters, the mayor replied in the affirmative.
-- PTI