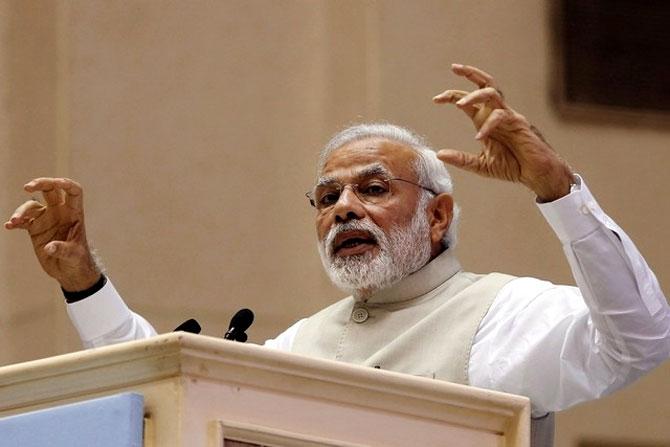 Prime Minister Narendra Modi is likely to hold a review meet this weekend to analyse the health of the economy and deliberate if any intervention measures are required to stem the fall of rupee and rising oil prices, sources said.
An increase in interest rate to shore up the rupee, that hit a fresh lifetime low Wednesday, is also being talked about in some quarters.
Finance Minister Arun Jaitley, NITI Aayog Vice-Chairman Rajiv Kumar, PMEAC Chairman Bibek Debroy and Finance Secretary Hasmukh Adhia are among the officials who are likely to attend the meeting Saturday, sources privy to the development said.
While the structure of the meeting is not known, it may review macroeconomic indicators, government finances and implementation of flagship financial inclusion and other development schemes, they said.
The meeting comes in the backdrop of the Indian currency touching its lifetime low of 72.91 to a dollar, depreciating 12.3 per cent since the beginning of 2018.
The rupee Wednesday rebounded from its historic low of 72.91 to end higher by 51 paise at 72.18 after the Finance Ministry assured of steps to avert its fall to "unreasonable levels".
Besides having an impact on current account deficit, the nosediving rupee has made imports costlier and led to petrol and diesel prices skyrocketing to record highs.
The finance ministry has ruled out any cut in taxes to ease the burden on consumers, saying it does not have the bandwidth to lose any revenue without developmental spending being cut. The government can ill-afford this in an election year.
Opposition parties led by Congress have made spiralling fuel prices and plummeting rupee a political issue and questioned the efficacy of the government's economic policies.
They have been demanding that the Centre cut excise duty and some of the states ruled by them including Andhra Pradesh and West Bengal have announced measures to cut local taxes.
Petrol price Tuesday climbed to an all-time high of Rs 80.87 per litre in Delhi, while in Mumbai it inched up to Rs 88.26. A litre of diesel in the national capital was priced at Rs 72.97 and Rs 77.47 in Mumbai.
Every Rs 2 cut in price of petrol and diesel would lead to a revenue loss of around Rs 30,000 crore, as per ministry estimates. -- PTI