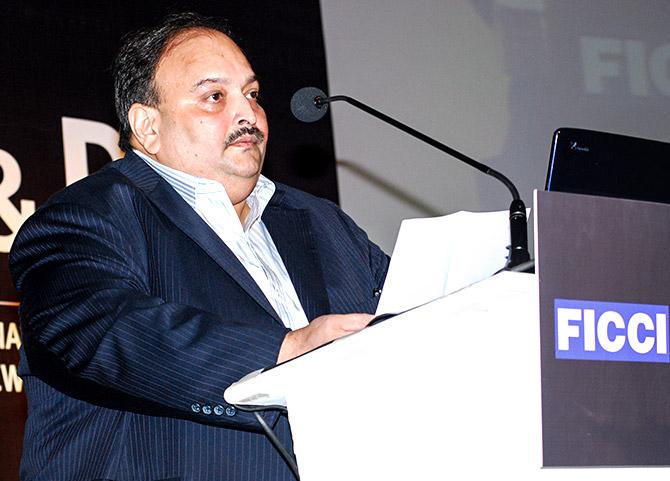 The Congress on Tuesday questioned why diamantaire Mehul Choksi, wanted in the multi-crore Punjab National Bank fraud, was allowed to keep his Indian passport until February this year and accused Prime Minister Narendra Modi and his office of complicity in his escape.
At a party briefing, Congress chief spokesperson Randeep Surjewala showed a video interview of Mehul Choksi, in which he claims that Indian authorities had sent him an email suspending his passport on February 16, 2018, to launch a fresh attack on the government on the issue.
He said it put a question mark on the role of the Prime Minister's Office and other agencies for allegedly not acting on various complaints against Choksi pending before them since 2015.
"The MEA and other authorities had already given him a 'clean chit' on May 2017 for securing the citizenship of Antigua and he became a citizen of Antigua in November 2017.
"It is intriguing that Modi Government permitted the Indian passport of Mehul Choksi to remain valid until February 16, 2018, helping him escape on January 4, 2018," he said.
Surjewala claimed this was proof that every agency of Modi government was 'found complicit in the great escape' of Mehul Choksi.
He also cited the government reply to a question in Parliament to claim that between February 7, 2015 and March 1, 2018, the PMO did not take any action against Mehul Choksi and Nirav Modi despite being informed about their frauds.
"Why did the PMO not act despite the complaint dated 7th May, 2015 & 26th May, 2015 nor direct the External Affairs Ministry/CBI/ED/SEBI/SFIO to take action? Does it not put a question mark on the role of the PMO?
"Why did PMO wait till 1.3.2018 to get a report on the fraud by Nirav Modi -Mehul Choksi? Does it not prove their complicity in the matter?" he asked.
"It is now clear that the chowkidaar has become bhagidaar," he alleged.
Surjewala claimed that details based on a Parliamentary reply of July 24, 2018 as also details from Antigua's Citizenship Investment Unit (CIU) have lifted the cover from 'sins committed by every organ of the Modi government -- PMO, MEA, CBI, SEBI that facilitated and gave a 'clean chit' to fraudster Mehul Choksi'.
"Loot and make them scoot is the prime policy of the Narendra Modi Government and shocking details have reveal how it enacted this mega scam," he alleged.
"PMO has admitted that first report of 'action' against Nirav Modi/Mehul Choksi was given to PMO by Finance Department on March 1, 2018. But Nirav Modi had escaped already on January 1, 2018 and Mehul Choksi escaped on January 4, 2018," he said.
"Why did the SEBI give a 'clean chit' to Mehul Choksi to help him secure the citizenship of Antigua?
"Why did the CBI/ED not move the INTERPOL for a warrant against Mehul Choksi or provide the requisite evidence of criminal fraud against him? Is it not correct that this deliberate failure on part of CBI/ED in providing evidence to INTERPOL, led to INTERPOL giving a clean chit to Choksi?," he also asked.
Surjewala also asked why the prime minister did not raise the issue of citizenship being granted to Choksi during his meeting with Antigua PM Gaston Browne in April 2018. -- PTI