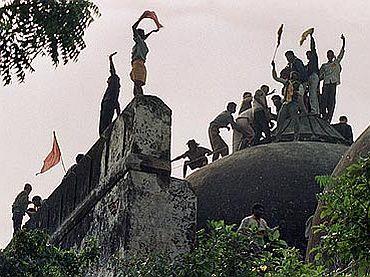 The Supreme Court Monday sought a report from a sessions judge in a Lucknow court on how he intends to complete the trial in the Babri Masjid demolition case involving BJP veterans L K Advani, M M Joshi and Uma Bharti within the April 2019 deadline.
A bench of Justices R F Nariman and Indu Malhotra also sought the Uttar Pradesh government's response on a plea of trial court judge S K Yadav, whose promotion was stayed by the Allahabad High Court on the ground that the apex court had directed him to complete the trial. The court asked for the report from the judge in a sealed cover.
On April 19, 2017, the apex court had said BJP stalwarts Advani, Joshi and Uma Bharti would be prosecuted for serious offence of criminal conspiracy in the politically- sensitive 1992 Babri Masjid demolition case and had ordered day-to-day trial to be concluded in two years, that is April 19, 2019.
The apex court had dubbed the demolition of the medieval era monument a "crime" that had shaken the "secular fabric of the Constitution" and allowed the CBI's plea on restoration of criminal conspiracy charge against the VVIP accused.
"There shall be no de novo (fresh) trial. There shall be no transfer of the Judge conducting the trial until the entire trial concludes. The case shall not be adjourned on any ground except when the sessions court finds it impossible to carry on the trial for that particular date," the apex court had then said. There were two sets of cases relating to the demolition of the disputed structure on December 6, 1992. The first involved unnamed 'karsevaks', the trial of which is taking place in a Lucknow court, while the second set of cases relate to the leaders in a Rae Bareli court. -- PTI