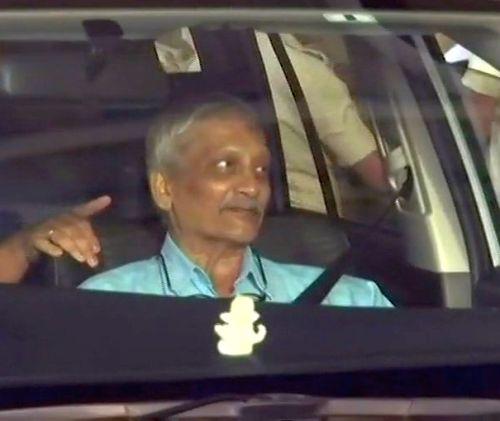 The Congress met Friday Goa Governor Mridula Sinha and demanded her intervention to stop "collapse" of the administration in the BJP-ruled state in view of frequent absence of Chief Minister Manohar Parrikar
and hospitalisation of his two Cabinet colleagues.
The main Opposition party said Parrikar should provide a fitness certificate before joining work. The party said while the nature of CM's illness is not known, two other ministers are in hospitals with "serious" ailments.
Parrikar returned home Thursday from the US, where he had gone for medical treatment in the last week of August.
The 62-year-old was earlier in the US for nearly three months for treatment. While there has been no official word on the nature of his illness, it is said he is undergoing treatment for a pancreatic ailment.
A delegation headed by All India Congress Committee secretary A Chellakumar, Goa Pradesh Congress Committee president Girish Chodankar, Congress Legislature Party chief Chandrakant Kavlekar and other leaders met Sinha in the afternoon at Raj Bhavan in Panji.
Emerging from the meeting, Chellakumar said there has been a "total collapse" of government in the state, where a BJP-led coalition is in power.
In such a situation, the governor is expected to intervene and restore normalcy in functioning of the state administration, he said.
Chellakumar said the CM has been frequently flying to the USA for treatment, but the exact nature of his illness has not been disclosed to the public by the state government.
Two other ministers Pandurang Madkaikar and Francis DSouza are admitted in hospitals with "serious" ailments, the Congress leader said.