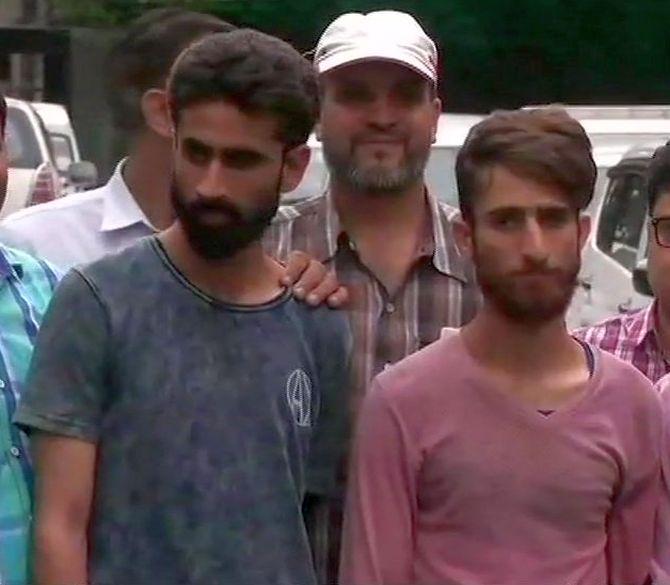 "We want to radicalise the entire world," Jamsheed Zahoor Paul, one of the alleged terrorists arrested by the Delhi Police's special cell, told the interrogators, sources said.
Paul, along with Parvaiz Rashid Lone alias Shahid, 24, was arrested from the Jama Masjid bus stop, near the Red Fort, on Thursday night for their alleged links with the Islamic State in Jammu and Kashmir, a terror outfit influenced by the ISIS ideology.
The investigators said the two, who belonged to Shopian in Jammu and Kashmir, were highly radicalised and the cell phones seized from them had videos, adding that some notebooks were also recovered, which were being studied by the police.
Lone had completed his B.Tech in civil engineering in 2016 from Amroha in Uttar Pradesh and was currently pursuing M.Tech from Gajrola in the same state, Deputy Commissioner of Police (Special Cell) Pramod Singh Kushwah said.
In September 2016, his younger brother Firdous had first joined the Hizbul Mujahideen, before joining the ISJK, the DCP said, adding that in January this year, Firdous was killed in a shootout with the security forces at Shopian in Jammu and Kashmir.
Firdous had idolised Hizbul Mujahideen commander Burhan Wani, who was killed by the security forces in July, 2016.
Firdous was carrying a reward of Rs 3 lakh and was brainwashed by the radical elements, the police said, adding that his elder brother was deeply affected by his killing and joined the IS-JK.
Paul is a final-year diploma student of electrical engineering in Jammu and Kashmir.
In April 2017, at the cremation of Sabzar Bhat, who succeeded Wani as the operational chief of the Hizbul Mujahideen, he had met one Shaukat, a resident of Tral, whose brother-in-law Syed Owais Shafi (later killed in an encounter) was an active militant at that time, the police said.
Shafi had further introduced Paul to Asif alias Omar Ibn Nazir, the current IS-JK chief, they said, adding that he was in regular contact with the latter for the last eight months through encrypted mobile messaging apps. -- PTI