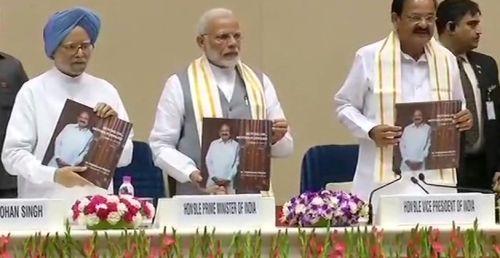 Prime Minister Narendra Modi and his predecessor Manmohan Singh shared the stage at the book launch of Vice President Venkaiah Naidu.
The 245-page book with seven chapters titled 'Moving On.Moving Forward: A Year In Office' with 465 illustrations, brings out Naidu's mission of engagement on four key issues with various stakeholders across the country and is in alignment with the mission of a new India in the making.
Setting the context of his journey in a new role as the Vice President, Naidu, in an article in the book, quoted from Rigveda: "May we unswervingly follow the path of the Sun and the Moon. Look at the bees move constantly to gather honey from the flowers. Look at the indefatigable Sun shining so bright and constantly on the move without having a wink of sleep. You must always keep moving, always keep moving". He elaborated on this in a chapter titled 'Retired from politics but not from public life'."
The book also contains a detailed chapter on various initiatives taken by him as Chairman of Rajya Sabha and refers to the rapidly- expanding viewership of Rajya Sabha TV.
-- ANI