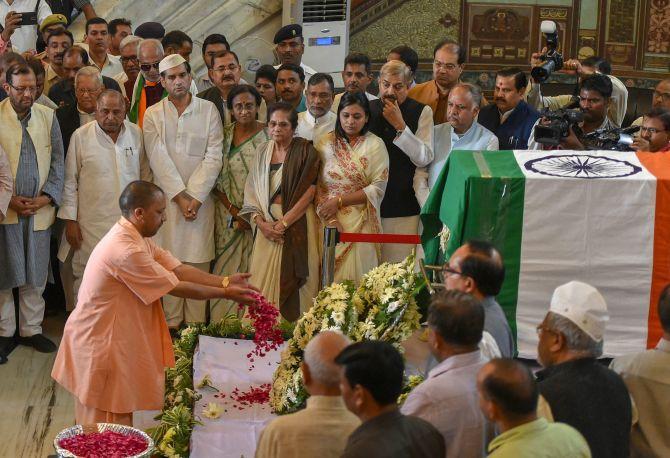 Leaders across political divide Saturday paid their last respects to Congress veteran N D Tiwari in Lucknow.
Tiwari, who was undergoing treatment at Max Super Speciality Hospital in New Delhi, breathed his last at 2.50 pm on Thursday after he suffered a heart attack, hours after he turned 93.
His body reached Lucknow this afternoon by an air ambulance.
Uttar Pradesh Chief Minister Yogi Adityanath and his ministerial colleagues received the mortal remains at the airport in Lucknow.
Tiwari, 93, died at a private hospital in Delhi on Thursday after prolonged illness.
Tiwari, who was considered close to Indira Gandhi, had served as a Union minister in several Congress-led governments.
He had the unique distinction of having served as the chief minister of two states, Uttar Pradesh and Uttarakhand, where his native place is located.
The body was taken to UP Vidhan Bhawan, where leaders from different political parties had gathered to pay their tributes to Tiwari.
UP Deputy Chief Minister Dinesh Sharma in a tweet said, "Shri Tiwari had significantly worked for the development and prosperity of UP. He was soft-spoken, able administrator and also had knowledge of parliamentary traditions."
Samajwadi Party chief Akhilesh Yadav was also present at the airport. -- PTI
IMAGE: Uttar Pradesh Chief Minister Yogi Adityanath pays tribute to mortal remains of N D Tiwari. Photograph: PTI Photo