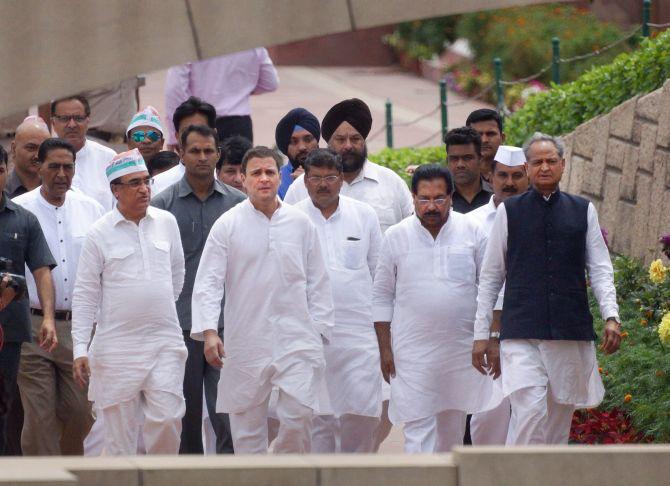 Expressing discontentment, district presidents of the Congress party from various states told party president Rahul Gandhi that issues such as indiscipline among the party cadre, ego and lobby of senior leaders are creating problems for the party.
Sources told ANI that as part of an organisation-building exercise Rahul Gandhi had a telephonic interaction with party members, including district heads, to get ground-level feedback.
During the interaction, district heads informed Gandhi that senior leaders of the Congress are egotistic and often don't communicate with party workers.
According to sources, they further claimed that the district level leaders are unable to maintain discipline as people are being posted on the recommendation of the senior leaders and hence those who join are not bothered about the district units.
A district member from the West Bengal's Jalpaiguri district unit stated that Congress leaders have a big ego and are uninterested in meeting people, which affects the party agenda. He also requested Gandhi to contest elections in West Bengal sans any alliance and also criticised West Bengal Chief Minister Mamata Banerjee for being arrogant towards Congress leaders.
Echoing similar sentiments, a leader from Odisha said that senior leaders are not accessible.
Another top official from the party's Warangal district unit in Telangana alleged that senior party leaders do not care about them because they have a lobby in Hyderabad and Delhi, and tickets distribution is decided at that level.
After listening to the conversation carefully, Gandhi, while acknowledging the lack of discipline within the Congress, said the party will make sure that the district Congress units are given priority in the decision making process.
File pic.