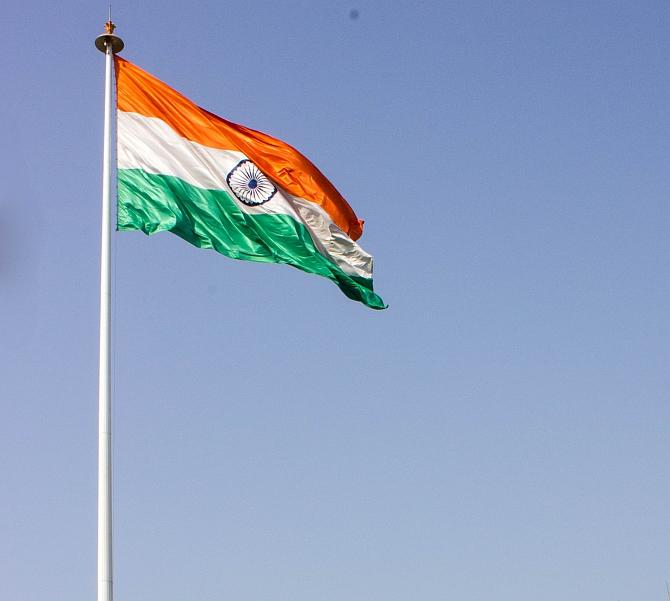 The Indian Railways has decided to install at least 100-ft tall tricolours on the premises of 75 of the busiest stations in the country, including seven in Mumbai, by the end of this year.
The Railway Board, the apex body of the national transporter, issued the order to this effect on October 22,which has been forwarded to all the zonal railways.
As per the order, the authorities concerned have been asked to complete the flag installation work by the end of next month.
The order issued by Vivek Saxena, Railway Board executive director (station development), says, 'The Board has decided to provide monumental flag (of at least 100-ft height) at all the erstwhile 'A1' class railway stations. The work should be completed by December 2018.'
The cost of the work many be charged under umbrella work of 'Soft upgrades improvement at stations', it said.
Mumbai, which has headquarters of two zonal railways-Central Railway and Western Railway- houses seven A-1 category stations.
Rest 68 stations fall in other cities and zonal railways.
The stations in Mumbai are Chhatrapati Shivaji Maharaj Terminus (CSMT), the Lokmanya Tilak Terminus (LTT), Dadar, Thane, Kalyan, Mumbai Central and Bandra Terminus.
'The flag should be provided in circulating area of the stations and at suitable place. It should be provided with focused lights. The security and safety of the flag shall rest with Railway Protection Force (RPF),' the order says.
A senior CR officer said they have received the communication and places to install the flags were being identified.
Chief spokesperson of the Western Railway Ravinder Bhakar said, "The Railway Board's order will be followed in letter and spirit and our team will do our best to completethe installation work within the deadline."
Passenger representatives, however, expressed reservations over the move.
Ratan Poddar, a member of the Zonal Railway Users Consultative Committee (ZRUCC) panel set up by the WR, said,"The priority of the Railways should be upgrading the passenger amenities and installation of flags is certainly not related to that. I don't think mere installation of flags will instill a sense of patriotism in people." -- PTI