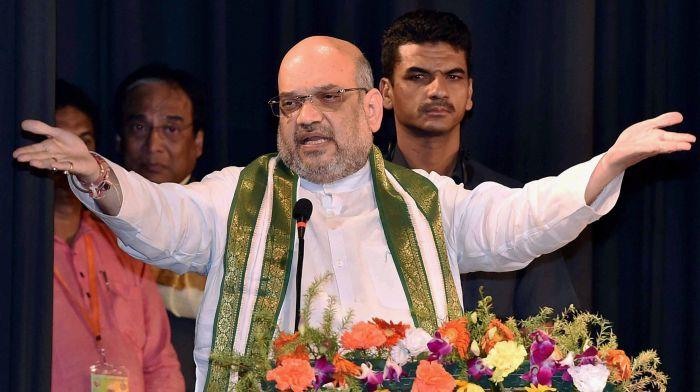 BJP chief Amit Shah on Saturday lauded the Raman Singh government for making Chhattisgarh "almost free" of Naxalism and targeted the opposition Congress, saying a party that thought the rebel movement was a medium for revolution could not do any good for the state.
He further hailed the Bharatiya Janata Party-led Chhattisgarh government for developing the state as a hub of power and cement production.
Shah exuded confidence that the saffron party would win the Chhattisgarh Assembly polls, slated to be held this month, for the fourth straight time.
Addressing a press conference after releasing his party's manifesto ahead of the first phase of polling in the state on November 12, Shah said, "The BJP government under Chief Minister Raman Singh has contained Naxalism and made the state almost free of it."
"A party that feels Naxalism is a medium for revolution cannot do any good for Chhattisgarh," he said, while attacking the Congress.
Shah was apparently referring to Uttar Pradesh Congress president Raj Babbar's remarks last week, when the latter had reportedly said Naxals had launched a "revolution" that could not be stopped through guns and the menace should be resolved through talks.
Releasing the BJP's manifesto for the Chhattisgarh polls, Shah said for his party, revolution was providing gas connections, electricity, education, employment to the poor and deprived sections of the society.
"Taking on the Congress's propaganda and working tirelessly for the state's development for the last 15 years is a big challenge. I am confident that the BJP will win a straight fourth term in office," he said.
The BJP chief claimed that the Raman Singh government had broken all records of development in its last three terms.
-- PTI