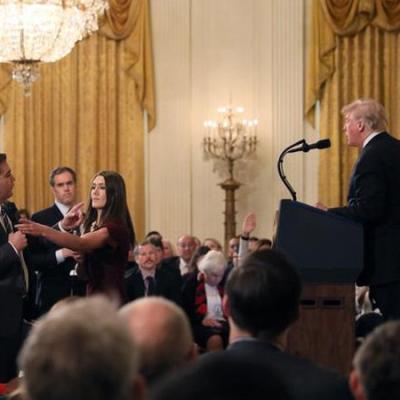 In an unprecedented move, the White House has suspended the press credentials of a CNN journalist terming his behaviour as "disgusting and outrageous", hours after he engaged in a heated argument with President Donald Trump during a press conference.
Defending itsjnk09 chief White House correspondent Jim Acosta, the CNN said the decision is "a threat to democracy".
The White House's move followed a heated exchange between Trump and Acosta who refused the President's orders to sit down and clung to the microphone and persisted with questions about his views on a caravan of Central American migrants making its way to the US border.
A visibly angry Trump said "that's enough!" and a White House intern unsuccessfully tried to take the microphone from the CNN journalist.
Describing Acosta's behaviour as "disgusting and outrageous", the White House Press Secretary, Sarah Sanders, in a statement on Wednesday said, "As a result of today's incident, the White House is suspending the hard pass of the reporter involved until further notice."
Sanders said Trump believes in a free press and expects and welcomes tough questions of him and his Administration. "We will, however, never tolerate a reporter placing his hands on a young woman just trying to do her job as a White House intern. This conduct is absolutely unacceptable," she said.
"It is also completely disrespectful to the reporter's colleagues not to allow them an opportunity to ask a question," she said.
Sanders said Trump has given the press more access than any President in history.
"Contrary to CNN's assertions, there is no greater demonstration of the President's support for a free press than the event he held today. Only they would attack the President for not being supportive of a free press in the midst of him taking 68 questions from 35 different reporters over the course of an hour and a half including several from the reporter in question," she said.
Meanwhile, the CNN said the revocation of Acosta's pass "was done in retaliation for his challenging questions at today's press conference...This unprecedented decision is a threat to our democracy and the country deserves better".
Acosta was stopped by the Secret Service from entering the White House at about 7 pm.
Former president of the White House Correspondents Association, Jeff Mason, refuted the White House accusation that Acosta placed his hand on a female White House intern. --
PTI