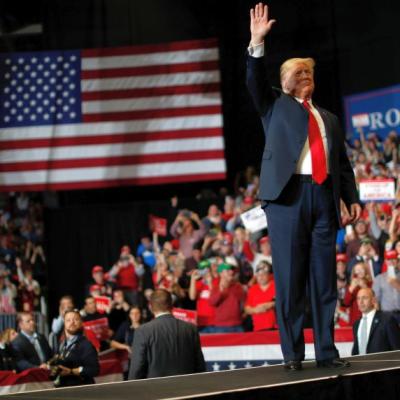 US President Donald Trump has described the midterm election results as a "tremendous success" even as opposition Democrats wrested the House of Representatives from the ruling Republican party, which managed to retain its majority in the Senate in the highly polarised polls.
Trump, who campaigned aggressively in the last several weeks, Wednesday offered an olive branch to Democrats, saying he wanted to work together with the Democratic leadership to continue delivering for the American people, including on economic growth, infrastructure, trade, lowering the cost of prescription drugs.
"Last night the Republican Party defied history to expand our Senate majority while significantly beating expectations in the House for the midterm year," Trump told reporters, hours after the Republicans lost control of the House for the first time in eight years.
"These are some of the things that the Democrats do want to work on, and I really believe we'll be able to do that. I think we're going to have a lot of reason to do it," he said as he termed the midterm poll results as a "tremendous success".
The Democrats now have majority in the 435-member House, while Trump's party has retained majority in the 100-member Senate.
In the House of Representatives, the Democrats seized at least 28 seats from Republican hands - enough for the majority in the 435-membered chamber.
In the outgoing House, the Republicans had 235 seats while the Democrats 193.
-- PTI