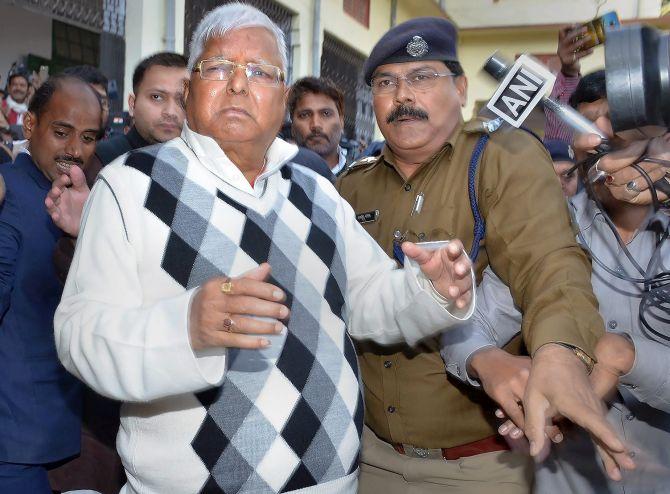 A designated Prevention of Money Laundering Act authority has held that 11 land plots worth Rs 44.75 crore, attached by the Enforcement Directorate in the name of a firm linked to Rashtriya Janata Dal chief Lalu Prasad's family, are money laundering assets and ordered that their attachment should continue.
The central probe agency had provisionally attached the plots measuring about 3-acres, located in Danapur near Bihar's capital Patna, in December last year under the PMLA, in connection with the IRCTC hotel allotment case.
"Considering the material (filed) in the original complaint (by the ED).. I find that the immovable properties provisionally attached are involved in money laundering.
"I, therefore, hereby confirm the attachment of the property...and order that the said attachment shall continue during investigation for a period not exceeding ninety days or the pendency of the proceedings relating to any offence under the PMLA before a court and become final after an order of confiscation is passed by the special court," a recent order issued by Member (Law) of the Adjudicating Authority of the PMLA, Tushar V Shah, said.
The ED will now seize the properties, bearing a market value of Rs 44.75 crore, and put up its sign board on these plots, agency sources said.
The land pieces are in the name of Ms Delight Marketing Co Pvt Ltd, now Lara Projects LLP, whose managing partner is Lalu's wife Rabri Devi, partners are his son Tejashwi Yadav and Tej Pratap Yadav, and Ms Meridian Construction India Limited promoted by Abu Dojana, an MLA of the former Bihar chief minister's party -- the Rashtriya Janta Dal.
When the ED attached these assets last year, a shopping mall was supposed to come up on these plots. It also had recorded the statements of Rabri Devi, Tejashwi, the former deputy chief minister of Bihar, and others in the case.
In July last year, the agency registered a case against Lalu Prasad, his family members and others under the provisions of the PMLA.
Before this, the Central Bureau of Investigation had registered a criminal first information report and conducted multiple searches on the properties of Lalu Prasad and others. -- PTI