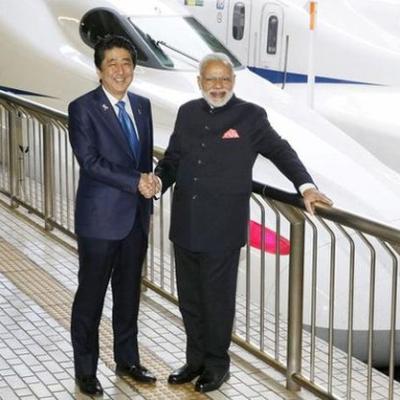 Some farmers were detained and a few others walked out of a consultation meeting for the Ahmedabad-Mumbai high speed rail project in Surat today, with a top district official stating that it went off successfully.
Collector Dhaval Patel said that some persons were detained from the venue as the administration feared that they might raise slogans and create law and order issues.
"Some persons were detained due to a concern over law and order. However, the meeting went on successfully as we tried to address issues raised by the farmers," Patel said.
He added that around 400 farmers attended the public hearing which was organised at city's Gandhi Smruti Bhavan. Darshan Naik, a Congress member of the Surat district panchayat, claimed that he was detained by the police, and said that several farmers walked out after coming to know of the detention.
"There was a large number of police personnel deployed at the meeting who were frisking every farmer entering the venue hall. I went in with a set of demands but was stopped by the police and detained," said Naik.
"When farmers who had gone in for the meeting came to know about this, they walked out and the meeting was not held again. We demand its rescheduling," he said.
As per the process, such consultation meetings have to be held before the actual process of acquiring land can start.
The project was launched last year by Prime Minister Narendra Modi and his Japanese counterpart Shinzo Abe and it is expected to be ready for commissioning by 2022.
The high-speed train will run between Ahmedabad and Mumbai and will halt in 12 stations. --
PTI