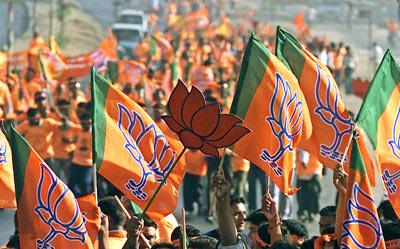 Bharatiya Janata Party president Amit Shah today appointed Kanna Lakshminarayana, who had left the Congress to join the party in 2014, as its Andhra Pradesh chief and made Somu Veerraju, also a contender for the post, the state convener of the election management committee.
In a statement, the party also said that Shah has appointed Ravindra Raina as president of its Jammu and Kashmir unit following the induction of Raina's predecessor Sat Sharma into the People's Democratic Party-BJP government as a minister.
The appointments made in Andhra Pradesh underlined Shah's efforts to do a balancing act as Lakshminarayana was said to be unhappy with the party over reports that he may be ignored for the top post.
He was a minister in several Congress governments in the state, but left it to join the BJP in 2014.
Lakshminarayana comes from the Kapu community, a group the BJP is eyeing to make inroads in the state.
Reports had said that he was set to quit the saffron party recently, but was prevailed on to continue and the appointment is seen as an effort to placate him and a number of other leaders who had left other parties, especially the Congress, to join it.
Veerraju is an old BJP hand and was considered till recently a favourite for the top post.
Following Telugu Desam Party president and Andhra Pradesh Chief Minister N Chandrababu Naidu's decision to sever his party's ties with the BJP, the saffron party is keen to broaden its base in the state where it has long been a marginal player.
The assembly polls in the state are scheduled to be held together with the Lok Sabha elections next year. --
PTI