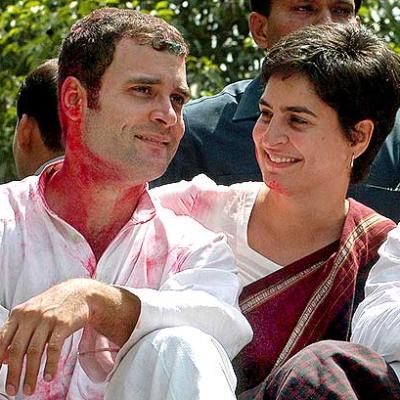 Congress president Rahul Gandhi and his sister Priyanka Vadra are among the dignitaries likely to attend the wedding ceremony of RJD president Lalu Prasad's elder son Tej Pratap Yadav today, a close aide of the family said.
"We have received confirmation that Rahul and Priyanka will be coming to attend the wedding. UPA Chairperson Sonia Gandhi is also among the dignitaries invited from across the country. We hope to receive many more confirmations of visit by the end of the day," RJD national general secretary and MLA Bhola Yadav told reporters.
To a query as to whether Chief Minister Nitish Kumar has confirmed his visit, Yadav, who had accompanied the RJD supremo on the flight from Ranchi last evening, quipped "how can 'chacha' (uncle) skip the wedding of 'bhatija' (nephew)?".
Fierce political rivalry spanning over decades notwithstanding, Kumar and Prasad have been close friends since the 1970s, when they had started off as student leaders and were active participants in the movement launched by
Jayaprakash Narayan.
On Thursday, Prasad's eldest daughter and Rajya Sabha member Misa Bharti had said the invitation had been sent out even to President Ram Nath Kovind and Prime Minister Narendra Modi.
"We would like them all to bless the young couple if their busy schedule permits them to do so," Bharti had said.
Meanwhile, the celebratory mood at the houses of former Chief Minister Rabri Devi, the groom's mother, and MLA Chandrika Rai, the bride's father, has grown more intense since Prasad's arrival.
The bungalows, barely a few hundred metres apart, have been decorated with flowers, and green chillies and lemons have been tied at several points to ward off evil eye.
-- PTI