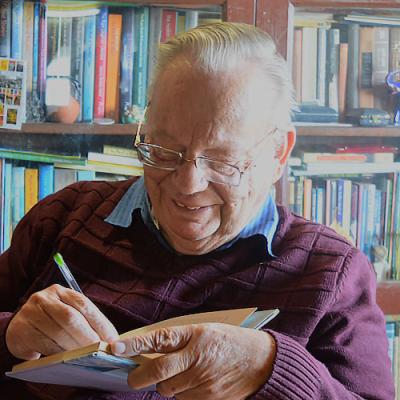 Ruskin Bond fans have something to cheer again -- a new book will be launched on his 84th birthday on May 19 which is inspired by a letter from one of his many fans in Sri Lanka. Lyrical and illustrated, "Ranji and the Music Maker" is a sunny story of forging bonds and simple joys.
The legendary author will launch the book at one of his most frequented places, Cambridge Bookstores in Mussoorie.
"It was set off, inspired you might say, by the photograph of a small boy playing his flute for a kitten sent to me by a reader in Sri Lanka. I imagined the little boy as Ranji," says Bond.
The book by Puffin India is about young Ranji who once in the middle of his languid holiday, stumbles upon assorted musical instruments in the storeroom - first a shrill flute, then a blaring little trumpet and, finally, a too-big drum that may have once sounded a battle march.
He stages impromptu concerts down the road, not sparing his neighbours, the cats around his porch, or the peace-loving inhabitants of the zoo. But all Ranji is really seeking is a friend who'll hear the magic in his din.
"Ranji and the Music Maker" has illustrations by Sayan Mukherjee. Bond's first novel, "The Room on the Roof", written when he was 17, received the John Llewellyn Rhys Memorial Prize in 1957. Since then he has written a number of novellas, essays, poems and children's books. He has also penned over 500 short stories and articles that have appeared in magazines and anthologies. He received the Sahitya Akademi Award in 1993, the Padma Shri in 1999 and the Padma Bhushan in 2014. -- PTI
Also
read
the 2017 Rediff.com interview with Ruskin Bond.