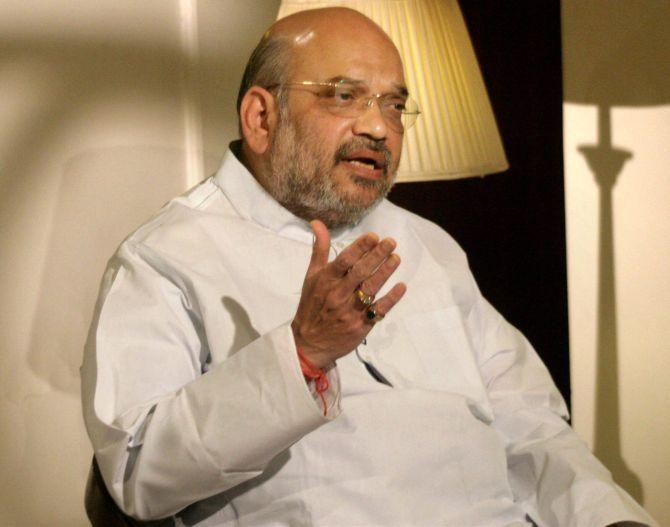 Rejecting reports of Bharatiya Janata Party leader B Sriramulu's alleged sting video, party president Amit Shah on Thursday said that many fake sting videos surfaced on the internet and urged to not believe them blindly.
Addressing a press conference in Bengaluru, Shah said, "Many fake sting videos surface. Don't believe them blindly. Instead, rather verify it. There is no need to believe what the Congress is saying."
In the video that is doing the rounds on social media, Sriramulu was seen allegedly giving money to former Chief Justice of India (CJI) K G Balakrishnan's son-in-law to bribe a Supreme Court (SC) judge in a mining case.
The Reddy brothers -- G Janardhana Reddy and G Somashekara Reddy -- were also present.
The Congress claimed that the video was shot because of the dispute that came because of 'non-settlement of the bribe amount'.
"The video that has surfaced on today show how Sriramulu and middlemen Captain Reddy, Balan, Swamiji Rajnish and CJI Balakrishnan's son-in-law Sreenijan discuss bribe deals in order to get a favourable judgment from the SC in the Obalipuram case," Karnataka Congress Working President Dinesh Gundu Rao said.
"Just a day before CJI Balakrishnan retired, he passed an order in a case related to Reddy brothers mining company. Now several videos have been released which show how bribery deals were done between CJI's son-in-law and Sriramulu and the Reddy brothers," he added.
He also demanded that Prime Minister Narendra Modi should 'break his silence' over the video on why the Reddy brothers were present again to 'loot Karnataka'.
"Sriramulu is now BJP's star campaigner. We demand that PM break his silence & answer the people of Karnataka on why the Bellary gang has been brought back to loot Karnataka. We demand an immediate high-level inquiry into this bribery scandal," Rao said.
"Despite supporting corrupt and jailed leaders in their own party, the prime minister comes to Karnataka and levels baseless allegations against us. This big expose has shown how corrupt Reddy-Srimarulu gang bribed the CJI. Will BJP and Prime Minister Modi answer?" he further said.
Sriramulu is contesting from the Badami seat and is pitted against Karnataka Chief Minister Siddaramaiah.On a related note, Karnataka goes to polls on Saturday. The counting and results will take place on May 15. --
ANI