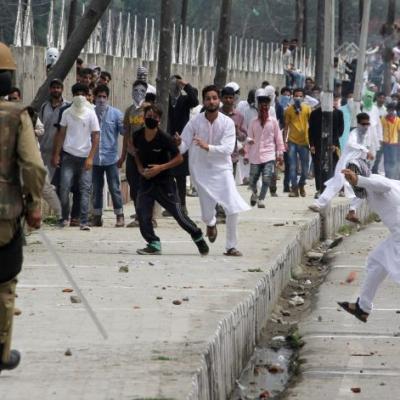 The Joint Resistance Forum, comprising the three main separatist groups in Kashmir, today condemned the death of a tourist whose vehicle was targeted by stone-pelters and said the incident had dented the image of the Valley and its tradition of welcoming guests.
The death of 22-year-old Chennai resident R Thirumani in a hospital here yesterday was "unfortunate" and had undermined their struggle, said a statement from the Forum, comprising the hardline and moderate factions of the Hurriyat Conference and the JKLF.
"Tourists are our guests and we should be loyal to our Kashmiri and religious traditions by refraining from harassing them," the statement in Urdu said.
The leaders, including Syed Ali Shah Geelani, Mirwaiz Umer Farooq and JKLF chief Yaseen Malik, said the Valley has for years hosted tourists in the best traditions of Kashmiri hospitality. People in the Valley, the statement to the press said, should refrain from destroying the basic fabric of Kashmiriyat in the state.
Such incidents encourage the attempts of those who present our movement in a bad light internationally, it added. Thirumani and his family were returning from Gulmarg, about 50 km from summer capital Sringar, when their vehicle was caught in stone pelting near Magam area of Budgam.
A stone hit the young man on his right temple and he was rushed to the Soura Institute of Medical Sciences where he died. PTI