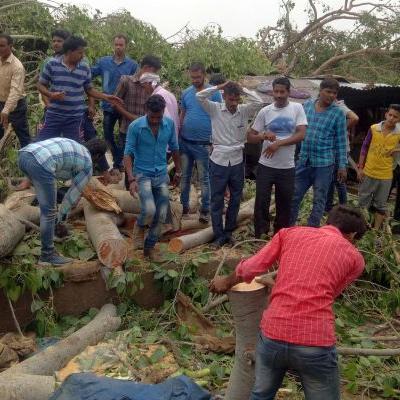 Sanjeeb Mukherjee/Business Standard
reports:
Another thunderstorm, days after a big one killed more than 100 people across North India, might strike around May 7-8, the weatherman said.
It could be accompanied by wind speeds of around 90 km per hour.
The India Meteorological Department, in an update issued a few days ago, had indicated the possibility of a fresh thunderstorm accompanied by gusty winds in parts of Rajasthan, western Uttar Pradesh, Delhi, Chandigarh, Punjab and Haryana.
"There might be a repeat of last week's massive thunderstorm again around May 7-8 in north-west Rajasthan and adjoining Punjab, Haryana, Delhi and west UP as once again a western disturbance is clashing with a cyclonic circulation," said Mahesh Palawal, chief meteorologist at private weather forecasting agency Skymet.
He said such intense thunderstorms happen whenever day temperatures rise sharply.
"We are expecting a western disturbance to approach the hill region on May 5. This will have an effect on the north-western plains," IMD senior scientist M Mahapatra told a news agency.
"The intensity of the thunderstorm can only be predicted two hours prior to the activity," Mahapatra added.
The last thunderstorm that stuck Rajasthan and Uttar Pradesh, killed over 100 people and destroyed almost 30-40 of the standing mango crop in the main growing districts of Saharanpur, Pilibhit, Muzaffarnagar, Bareli, Rampur and Sitapur.