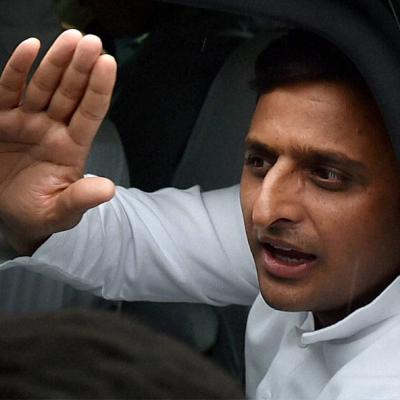 Former Uttar Pradesh Chief Minister and Samajwadi Party leader Akhilesh Yadav will meet Telangana Chief Minister K Chandrasekhar Rao in Hyderabad today as part of the latter's plans to forge a non-Congress, non-Bharatiya Janata Party alternative at the national level.
Rao had recently met his West Bengal counterpart Mamata Banerjee and former prime minister H D Deve Gowda, Dravida Munnetra Kazhagam patriarch M Karunanidhi and the party working president M K Stalin.
On April 29 Rao had held discussions with Stalin at Chennai on a wide range of issues, including more autonomy to states.
He had said his ongoing effort was not aimed at some kind of a 'third front'. It was not a mere alignment of political parties but 'that of the people' of the country, the Telangana Rashtra Samiti supremo had said at a joint press conference with Stalin.
Rao parried a question on whether he was projecting Mamata Banerjee, whom he had recently met, as the prime ministerial candidate in the 2019 elections.
The efforts were aimed at the country's betterment,better economy and better opportunities for the youth, he had said.
Rao had recently met Banerjee and Deve Gowda as part of his move to form an alternative.
A resolution at the TRS Plenary on April 27 had authorised Rao to take appropriate decisions on forming the alternative to BJP and Congress. --
PTI